Goemkarponnd esk
PONDA: Huge Pimpal tree was collapsed on kitchen house at Durbhat today early morning at 4 pm, however luckily no one present at kitchen of house.
One member was inside kitchen but he came out and tree was collapsed due to which he was luckily escaped. The house learnt to be owned by family social worker Hanumant Naik .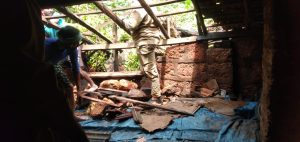 The backside portion of the house was damaged due to incident.
Following this Ponda Fire personnel team rushed to the spot and as the tree was huge size crane was called at spot to clear the tree on house.
Comment