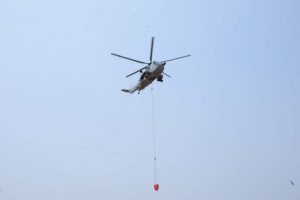 Goemkarponn desk
PANAJI: The Indian Air Force (IAF) has deployed a Mi-17 helicopter to contain the devastating forest fire in Goa that rages for the sixth day.
The IAF's Mi-17 on Thursday joined the Indian Navy helicopters that were earlier deployed to put out the fire in Mhadei Wildlife Sanctuary that has been burning since Monday.
"Today's operations have seen this helicopter flying multiple missions dispensing almost 22,000 litres of water to fight the fire," the IAF said in a release on Thursday.
Indian Air Force is coordinating with the Indian Navy and the civil administration in combating forest fires in the affected areas of the coastal state, it said.
"Operations shall continue tomorrow. Bambi Bucket operations involve the helicopter carrying water underslung and releasing it over the affected area to douse the fire," the release read further.
Some 800 personnel from the Fire force and about 50 volunteers of local people are also involved in the efforts to bring the fire under control.
Rich biodiversity of Mhadei at risk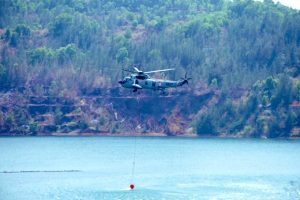 The raging fire is said to be the worst such outbreak in the history of the coastal state and has badly affected the Mhadei Wildlife Sanctuary, a biodiversity-rich region in the Western Ghats.
Mhadei, spread across 208.5 km in the North Goa District, is home to a wide range of animal, bird and plant species, including leopards, bears, bison, and deer. Even tigers and black panthers have been spotted in Mhadei in the past.
The full extent of the damage caused by the fire to the delicate ecosystem will only be evident in the coming days.
Fire likely man-made
While forest fires are common in summer, what makes it even worse in Goa is the allegations that it could have been lit deliberately.
Several environmentalists have alleged that the fires were started by people living on the borders of the Sanctuary to encroach upon the protected lands.
Government orders probe
Even the Goa government has indicated that the fire could be man-made and has ordered a probe into the incident.
Goa, Chief Minister Pramod Sawant has ordered an investigation into the cause of the fire and also the role, if any, of forest guards concerned.
"If any forest guard is found to have failed in his duty, he would be immediately suspended," Sawant said.
Action against those who lit fire
On Thursday, Sawant noted that fire incidents have been reported from other places in the state and directed officials to register FIRs against those miscreants setting fire to forests intentionally.
"People who lit fire in their cashew plantation to clean the areas should stop such practices; else we will take action against them. Action would be taken against forest guards if they are found negligent in carrying out their duties. A thorough investigation in connection with such cases will be conducted. We will not tolerate loss of forest," the Chief Minister added.
Comment