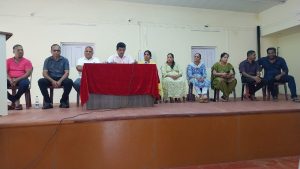 Locals want politicians should stay away from Bhagwati plateau
Goemkarponn desk
CANACONA: Preservation of Biodiversity and complete stoppage of Hill-Cutting marred the Gramsabha of Loliem-Polem on Sunday.
Indirectly pre-warning politicians against bringing back the ghost of IIT or for that matter attempts to misuse the biodiversity-rich Bhagwati Plateau on the pretext of bringing developmental projects in the village, members deliberated the issue and reiterated the Resolution passed in the Special Gramsabha of 2016 that no developments of whatsoever nature will be permitted at the Biodiversity rich Bhagwati Plateau.
After discussing the attempts and reported statement and visit by Social Welfare Minister Subhash Phaldessai threadbare, members were vocal in resolving that in no way IIT or any other projects would be allowed at the Bhagwati Plateau.
"This plateau having rich to the very rich biodiversity of every nature and calibre should be preserved and kept as it is with non-developments of any nature. It will be kept for Cattle Grazing and it will be allowed to remain natural as it is!'. Members were also heard stating that the message of this decision (yet again taken in Sunday's gram sabha) should be passed to Minister Phaldessai and MLA as well before they venture into plotting anything in the village," locals said.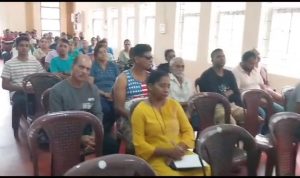 Members also stated that an illegal Hill-Cutting taking place in ward no.2 was stopped after a complaint was filed and even machinery was seized, and still yet again the hill-cutting has resumed in the area. Some members alleged that the illegal Hill-Cutting has resumed with even bigger force and double machinery is used to carry out the illegality on a mass scale.
It should not be allowed to be continued, members alleged, however, some members present also began to highlight some instances of illegal house constructions in the village and sought a decision to stop all kinds of illegal activities taking place in the village.
Members also raked up the issue of updating of panchayat website, stating that inspite of clear-cut laid procedure; 'the website is not being updated and it should be done at least after every gram sabha and panchayat body meetings', asked Prashant Pagi.
Sarpanch Pratiza Bandekar, Dy Sarpanch Chandrakant Sudhir and all other panch members were present along with Panchayat secretary Sandeep Dessai,
A discussion on garbage collection was held, after which the sarpanch was informed due to a paucity of funds, the panchayat is unable to take several works like cutting roadside trees and bushes.
As the government is not sharing the Octroi of Petrol pumps operating in the village, the panchayat revenue has dipped to very low and we are unable to take on any work even taking up some of the minor and regular works has become a challenge to the panchayat body.
Comment