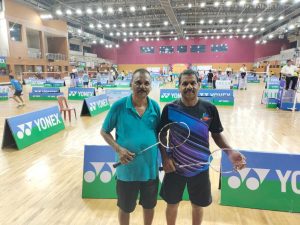 Goemkarponn Desk
PANAJI: After conclusion of the 35+ to 50+ age groups, action shifted to the Senior age groups of 55+ to 75+, at the Yonex-Sunrise 45th Indian Masters (Veteran) National Badminton Championships -2022-23 at the stadiums in Fatorda and Navelim in Goa.
Goa players performed exceptionally well with Peter Tellis, Vamanan K and Dr Manju Khandeparkar being the standout players of the day. Dr Satish Kudchadkar, Wilson D' Souza, Ajay Gupta, Narahar Thakur, Marina Albuquerque, Felipe Barbosa, Vishwanath Prabhu, Rupchandra Humraskar and Dhananjay Sirsat also marched ahead.
In Men's 65+ Doubles Pre Quarter finals, Vamanan K. and Petek Tellis from Goa defeated Eurico Rosario and Ajay Shukla from Gujarat 21-14 21-9. In Women's Doubles 60+ age group, Dr Manju Khandeparker from Goa and Sunitha Swaminathan from Tamil Nadu defeated Sumathi Churukanti and Narmada Nohula from Telangana 21-3 21-8 to head into the Quarter finals. Dr Manju also had a good outing in singles, defeating Nila Bhattacharjee from West Bengal 19-21 21-8 21-18 to enter the pre-quarter finals in Women's Singles 60+.
Dr Satish Kudchadkar, a Gold medalist at the National Ranking held in Goa in 2020 and a strong contender to win a medal, defeated Wazir Chand Goyal (5) from Haryana 21-6 21-8 to seal his place in the Pre Quarter finals. In Mixed Doubles 55+, Shailendra Bagre, MP, and Marina Albuquerque, GOA, def. Satinder Malhotra, MAH, and Sharmila Verma, GUJ, 15-9 15-6 to move into the Pre Quarter finals.
In Women's Singles 55+ category, Manjiri Moktali from Goa went down fighting to Hemin Baghe from Chhattisgarh 16-21 21-15 21-14 in Round of 32.
In Men's Doubles 55+ round of 32, Wilson D'Souza from Goa and his partner Rajesh Kumar Gupta defeated Hemant Patel and Jitendra Pradhan from Gujarat 21-13 21-17 while Rupchandra Humraskar and Dhananjay Sirsat from Goa defeated Babul Saha and Rameswar Saha from Tripura 21-16 21-10.
In Men's Singles 60+, Filipe Barbosa from Goa defeated Satyanarayana Allam from Telangana 21-13 21-14. In Men's Doubles 60+, Narahar Thakur and Ajay Gupta from Goa defeated Pitrush Indwar and Trilok Kumar from Bihar 21-15 21-14 to head into Round of 32.
Joining them there were Ashok Menon and Vishwanath Prabhu from Goa, who defeated Raju G. K. from Delhi and Hareendran Gangadharan Pillai from Kerala who gave a walkover.
Players from 30+ States / Union Territories are participating in the Indian Masters Nationals at Goa which is a prestigious selection championship for BWF World Seniors to be held in South Korea later this year.
The championship hosted by Goa Badminton Association under the aegis of Badminton Association of India and in collaboration with the Sports Authority of Goa concludes on March 26.
Comment