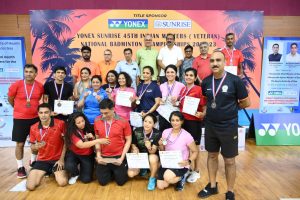 Goemkapronn desk
MARGAO: Goa's Ashutosh Pednekar and Sandhya Melasheemi are in line to win Gold medals at the Yonex-Sunrise 45th Indian Masters (Veteran) National Badminton Championships -2022-23 in Navelim, Goa.
In a closely contested semi-final match at Navelim stadium on Wednesday, Ashutosh Pednekar and his partner Naheed Divecha from Maharashtra defeated Maran Thangavelu from CAG and Shaila Holla from Karnataka by 21-19, 17-21, 21-7 to enter the 50+ Mixed Doubles finals.
Similarly, Sandhya Melasheemi from Goa and Sangeetha Mari from Karnataka secured their spot in the finals of Women's 35+ Doubles by defeating Varsha Belawadi from Karnataka and Parul Rawat from Kerala by 21-17, 21-19.
Although Goa's Mahesh Pauskar and Kishore Raghubans put up a good fight, they bowed out of the championship in the quarterfinals by losing to Sanjay Ray and Hirak Kanti Sengupta from West Bengal in a closely fought match by 21-18, 21-19.
The Goa Badminton Association Secretary Sandeep Heble said, "The Yonex-Sunrise 45th Indian Masters (Veteran) National Badminton Championships -2022-23 is a prestigious Championship and qualification for BWF World Seniors in South Korea. The championship witnessed some high-quality matches last few days, with the competition getting tougher with each passing day. We are extremely delighted with the performance of our star players Ashutosh and Sandhya, which has been having been exceptional, and we are looking forward to the two winning Gold medals for Goa. We wish them all the best."
In other significant results of the day, Manisha Singh, CG, defeated Yupu Boni (11), ANP, 21-17 21-12 in Women's Singles 40+. In Men's Doubles 40+, Vidyadhar J. B. S., AP, and Sanave Thomas, KER, def. Yuvraj Dayal and Maran Christopher M.P., TN, 21-10 21-9. Sanave Thomas also made it into the 40+ Mixed Doubles finals along with his partner Nupura Gadgil, MAH, def.eating Arup BAIDYA and Uma DEY, WB, 21-13 21-13 . In Women's Singles 45+, Pooja MEHTA (1), GUJ, def. Yasmeen Shaikh, KTK, 21-11 21-12 . Aneesh K. A., KER, and Vijay Lancy, KTK, def. Ashish KHEDIKAR and Sandeep Mohan, MAH, 21-15 21-19 to enter the finals in Men's 45+ doubles while Sameer ABBASI and Pooja Mehta, GUJ , defeated Deepak Saxena, CHG, and Sarita Jethwani, MAH, 21-7 21-7 to enter the finals in Mixed doubles 45+. Shalini Yadav (1), MP, def. Naheed Divecha, MAH, 21-16 21-17 in Women's singles 50+ to move into the finals. In Mixed Doubles 50+, Kiran Makode, MAH, and Ruchita Sharma (4), MP, def. Unnikrishna Varma, GUJ, and Shalini Shetty, KTK, 21-13 21-12 to seal their berth into the finals.
Comment