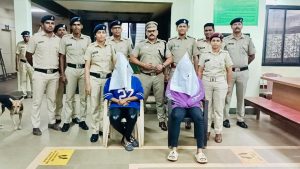 Goemkarponn Desk
PANAJI: An international sex trafficking ring operating between Kenya and India has been busted, thanks to the collaborative efforts of the Anjuna Police, led by SDPO Jivba Dalvi, and ARZ NGO.
Young, educated, and vulnerable Kenyan women were falsely promised jobs in the hospitality industry by agents working on behalf of traffickers based in Goa.
After being brought to India, the traffickers seized the women's passports and visas, forcing them into prostitution under threat of violence and imposing a debt of 5 to 8 lakh rupees.
The racket, a close-knit group involving the trafficker duo Maria Dorcas and Wilkista, operated largely online, leveraging escort websites to solicit clients. ARZ NGO became aware of the operation when the victims were taken to Bangalore for prostitution.
Following a tip-off from a partner organization, ARZ successfully located the victims in Goa and facilitated a meeting with SDPO jivba Dalvi and PI Anjuna Prashal Dessai to share the information.
Prompt action by the Goa police resulted in immediate lodging of a complaint, followed by targeted raids that rescued five more women and apprehended the central figure behind the racket.
The rescued women have been lodged in Protective home at Merces.
Accused persons identified as 1. Ms Maria Dorcas @ Israelite age 28 yrs and 2. Wilkista Achista, age 22 yrs both native of Kenya have been arrested under sections, 370 , 370 (A) 370 (3) r/w 34 IPC and section 4,5,8 of immoral Traffic ( prevention) Act 1956 .
This decisive intervention under SDPO Jivba Dalvi's guidance has disrupted a significant network of international sex trafficking, showcasing a commendable synergy between law enforcement and civil society organizations in protecting vulnerable individuals from exploitation.
Further investigation is in progress with Prashal Dessai PI Anjuna PS under the supervision of SDPO Mapusa Jivba Dalvi and SP North Nidhin Valsan IPS.
Comment