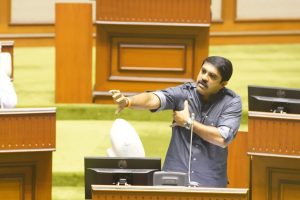 Goemkarponn desk
PORVORIM: Goa Forward MLA Vijai Sardesai has alleged a major scam in the GIDC plot allotments.
Sardesai said that the plots have been allotted to IDC employees overriding Central Civil Service Conduct Rules.
"IT'S RAINING SCAMS! I've exposed another one today. The #IDCPLOTS SCAM and I'm calling for a CBI enquiry. Plots had been allotted to IDC employees overriding the Central Civil Service Conduct Rules, then realising the criminality, charge sheets had been filed against some," he tweeted.
Sardesai added, "Then, just 4 months ago, suddenly, @GovtofGoa finds no infringement of laws, and everything is quickly settled! This scam is not only blatant but also absurd! The Govt has become so bold that it can't even see everything it did is on record!"
Speaking on Transport, Sardesai questioned government on Scrapping policy.
"AMEND THE RULES, IF NEED BE, BUT HELP #GOEMKAR MINING TRUCK OWNERS. Even after @goacm assuring the South Goa Progressive Truck Owners Association in 2021 that the Scrapping Policy for trucks will not be implemented, because no mining activity has taken place for more than 10 years, there's been no relief for them," he saaid.
He added, "I demand @GovtofGoa address this forthwith. Also, the Green Tax should be waived, as promised by @SubhashGoa to the Association, so that the truck owners do not incur additional financial burden for no fault of theirs."
Sardesaid also took up the issue of transport for students.
"HOW RIDICULOUS IS THIS? Our university students, who're the future of #Goa, are traumatised every day because there's no adequate transport to get to the campus," he said.
On the other hand, he added, #Karnataka voters, who're not the future of Goa, are allotted enough buses during elections to get to polling booths! @GovtofGoa must immediately press more buses into service, and cut down wait times to 15 minutes. DO IT.
"Only a Govt disinterested in Goa will be dismissive about its students. I will not let that happen," he said.
Comment