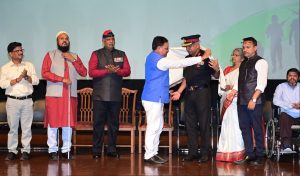 Goemkarponn desk
PANAJI: To commemorate the 25th anniversary of India's triumph in the Kargil War, the Office of the State Commissioner for Persons with Disabilities in collaboration with Lakshya Foundation-Pune and Department of information and Publicity paid a poignant tribute to army veterans who fought the Kargil war and honour their courage and serve as a reminder of the indomitable spirit of our armed forces.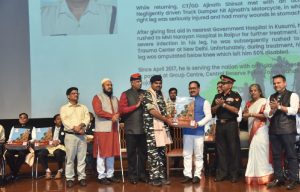 For the same, a felicitation programme was held at Bits Pilani Campus, Goa wherein 9 army veterans Naib Subedar Ramdas Shyamji Pawar (Rtd), Daya Ram (Rtd), Hav. Muni Lal (Rtd), Jogender Singh (Rtd), Hav. Yash Paul (Rtd), Hav. Mehar Singh, HC/GD Janardan Sonawane, Ajitnath Namdev Shirsat and Hav Jaihind Singh were felicitated on the occasion.
Also present were Major General Ravindra Singh (SM Bar), Colonel Prashant Kamath (SM), Founder President, Lakshya Foundation, Mrs. Anuradha Prabhudessai, State Commissioner for Persons with Disabilities Mr. Guruprasad Pawaskar and Secretary Office of the State Commission for Persons with Disabilities Mr. Taha Haaziq. These dignitaries were accompanied by students representing various schools from across the state.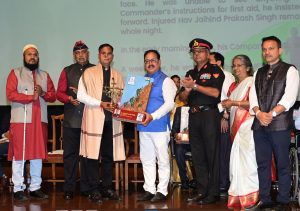 During the event, a recorded clip of Chief Minister of Goa, Dr. Pramod Sawant, who was unable to attend, was played. It said, "We are proud to have this opportunity to felicitate the Kargil War veterans. They are the real heroes of today's India and of Independent India. Many wars have been fought from 1947 onwards, and many Indian revolutionaries like Sukhdev, Bhagat Singh, and others sacrificed their lives for the country. This year, Lakshya Foundation has selected 12 districts to organise 12 felicitation programmes in the presence of students, aiming to instil patriotism among them. It is crucial for them to learn about and personally experience these events. We observe that in our state only a small percentage, hardly 0.5 percent, of the youth join the military or armed forces."
He added that, along with land border security, coastal border security is equally important. Therefore, they are working towards tightening coastal border security in Goa as well."
The chief guest for the function Minister for Social Welfare, Mr.Subhash Phal Dessai said that the Kargil War in 1999 was indeed a defining moment in the history of our nation.
Speaking about the role of artillery during military operations, Major General Ravindra Singh said that the artillery is indeed a valuable asset when it comes to conducting attacks. "Artillery plays a crucial role in targeting and neutralising specific objectives, effectively weakening and softening them before further engagement. During the Kargil War, the Indian Army received significant support from artillery, which made our work quite easy."
He further said that it is not only the soldiers going to war who are brave, but their families are equally brave and strong. "None of our soldiers who go to war are made weak by their families and wives. They know they are going into war and may not return, but I have never seen any family or children being scared of whether they will come back or not. I believe all of this is part of our culture and it is our nation's strength."
Speaking on the momentous occasion State Commissioner for Persons with Disabilities Mr. Guruprasad Pawaskar said, "This felicitation was done by the Office of the State Commission for Persons with Disabilities as many persons lost their lives and arms and limbs during the Kargil war. The army veterans felicitated today are those fitted with artificial limbs and we thought it was apt to honour them as they are the real heroes of our nation." He also stated that he would like to see more Goans join the armed forces.
Comment