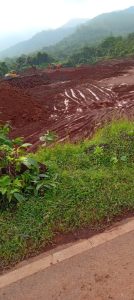 Goemkapronn desk
CANACONA: An illegal hill-cutting and ground levelling works are underway near Paryemoll-Khola allegedly to set up a polluting factory in Barcem-Quedem village Panchayat area.
According to the Khola residents, trees have been cut, and by using heavy earth-moving machinery hill and embankments cutting is carried -out and the ground-leveling works are going-on unabated over a weeks time now at Paryemoll.
Incidentally, the area where these alleged illegal activities are carried out falls under the panchayat jurisdiction of Barcem-Quedem village Panchayat of Quepem Taluka bordering village Panchayat of Khola in Canacona taluka.
The developed area is situated, right on the banks of a rivulet, which flows down the area through and between Khola and Agonda villages as river Saleri, one of the three major rivers of Canacona taluka.

This river has almost 4 (four) Sets of Pumps installed by PWD (Water-supply) at different spots to draw and supply water to the people of Khola and also to Agonda village in Canacona.
According to the nearby residents, similar attempts to construct some infrastructure (allegedly Fish-meal Factory) made in the past were given up following people's objection as the activity would bring pollution generation activities within their area. People residing nearby citing the factory discards would miserably pollute the water-bodies throughout Khola village strongly objected forcing the stoppage of the works than, informed a resident of Paryemoll-Khola.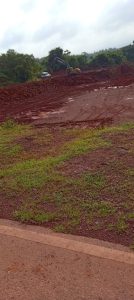 Another resident of Khola informed, "now, the developmental work's, moreover has triggered mass tree-cutting, hillcutting and destruction of natural embarkments to the grounds-level activities are being carried out in the area openly. And though, there is no official intimation, we suspect, efforts are reportedly underway to bring back the same not environment/atmosphere and water-bodies polluting Fish-Meal Factory."
And if this true, he said, the pollution will not only limit to our locality but through the river, the pollution will spread through the entire Khola and Agonda villages down the line in Canacona taluka.
"In-fact, there are almost four(4) Pump-sets installed at four different location down the line in this river by PWD to draw water, and supply even to Agonda village besides over 60% in the Khola village itself'", informed the resident.
Residents also pleaded with the government to stop the ongoing illegal tree-cutting, hill-cutting and Ground levelling activities being carried out near Paryemoll in Barcem-Quedem village panchayat areas and save Khola and Agonda villages from polluting the environment and the water itself', pleaded yet another resident, preferring to remain anonymous to avoid harassments by the allegedly powerful lobby involved in the illegalities.
Comment