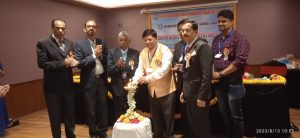 Goemkapronn desk
CANACONA: With an aim to bring together Komarpant Samaj Entrepreneurs and Engineers, Shree Sharadamba Krupa Komarpant Charitable Trust-Goa in association with Kshatriya Komarpant Samaj-Goa ,organized "Entrepreneurs-cum-Engineers Meet-2023" on Sunday.
The "Entrepreneurs-cum-Engineers Meet-2023" was held on Sunday at Z square Banquet Hall, Samrat-Ashok Theatre Complex, Panaji-Goa with an objective of this Meet was to bring together Entrepreneurs & Engineers of Samaj on a common platform for Introduction, Interaction, Inspiration by seniors, Identifying opportunities and healthy discussions.
Prabhakar Naik, B.Tech. Dubai U.A.E. was the Chief Guest on the occasion who expressed his desire to bring up the community by joining all groups together.
He also briefed the gathering about his career and the opportunities in Dubai, and the support, guidance he can made available from his side to the youngsters.
Shreenivas Naik, M.Tech. Bits Pilani, was the Keynote Speaker who gave a technical presentation. Gopalkrishna Y. Nayak, Managing Director, Goa Urban Co-operative Bank, gave guidance Financial Avenues to the Entrepreneurs.
The Trust President RBS Komarpant gave Welcome address and briefed about the objectives of the Meet. Samaj President Subhash Majalikar explained regarding all Goa Samaj activities. G K Naik, Chief Co-ordinator emphasized on importance of one platform for Entrepreneurs and Engineers. Marutidas Naik, Trustee, gave Power Point presentation regarding establishment details indicating highlights of Samaj and Trust.
Trust Secretary Rajaram Naik gave Vote of Thanks.
Around 60-70 Engineers and Entrepreneurs from Goa, Karwar, Bangalore, Pune etc. participated in the Meet . Dr.(Smt.) Akshata Kirankumar Naik, and Dr.(Smt.) Amrita Sandip Naik, both from Ponda were felicitated for achieving their Ph.D. (Engineering). The event was compeered by Miss. Shruti G. Naik.
Comment