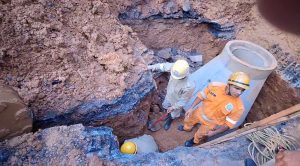 Goemkarponn desk
PANAJI: The worst nightmare of Ribandar locals have come true on safety of Smart City Works.
A tragedy struck on Monday morning, as a Smart City project worker at Ribandar was trapped under the mud pile and later succumbed to injuries.
Eyewitnesses said that around 8 am teh worker was stuck as the mud pile in a narrow trench collapsed on him.
"Others could not help as the mud was collapsing further and there was chance of others getting trapped too," said eyewitnesses.
The locals said there was no safety measurers taken by the Smart City corporation.
"We had asked for ambulance but they did not agree and today their own worker died due to delay in bringing ambulance," he said.
They said that whn the Smart ity cannot save their own workers, how will they save the villagers," they asked.
They also claimed there was no contractor or engineer on site when the accident took place or till body was retrieved.
The fire fighter Ganesh Gaonkar from Old Goa Fire Station said that around 8 am they received a call that a worker is trapped under mud.
"Immediately, with the team they reached there and saw the man trapped and they started the rescue operations with our equipment," he said.He said there was lot of harships in his retrieval as the mud was sticky and the road was also narrow also the trnch was starting to collapse.
"We used JCB and other other euqipment. When we came here we first asked the doctor to check his pulse and the doc said he was not sure but asked us to remove him out," he stated.
Ribandar residents held a meet last week demanding details of the proposed Smart City road excavation work before the authorities commenced the work.
Locals said that authorities must take them into confidence, take their suggestions and proceed with the work.
They also suggested taking up off the work during Diwali vacation to avoid inconvenience to students.
Locals of Ribandar on Thursday met Imagine Panaji Smart City Development Limited (IPSCDL) officials at the Corporation of the City of Panaji (CCP) office and told them that they will not allow the Smart City work if it is not done in phases and within the stipulated time-frame.
"If the work under Smart City project is not done phase wise, we will not allow it to proceed further. We would not allow it to be done rampantly. If phase I is not done properly, then how can we allow it to start phase II. We are ready to give even 40 days but the work should be complete. What happened in Panjim should not happen in Ribandar," a Ribandar resident said.
Comment