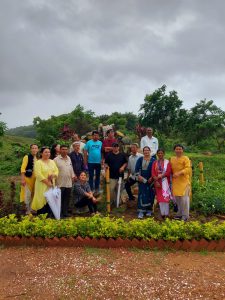 Goemkarponn desk
CANACONA: A delegation of the Biodiversity Council from Ladakh visited Canacona on Saturday.
The delegation visited the important sites and discussed the functioning of various Biodiversity Management Councils (BMC) in Canacona.
State Awardee BMC Shristhal, led by Chairman Vinay Tubki, took the delegation.
On a tour to visit Chapoli Dam, Nagar-Van, Jermal Tree at Shristhal and the ancient and oldest temple of Shri Mallikarjun at Shristhal, held and toured various Shristhal Biodiversity Management Committee on Saturday and discussed the functioning of BMC and visited various places.
The delegation earlier visited Agonda Panchayat areas, including a 'Davarne' at Mudkud and Project of Restoration of Beach at Val Agonda and after that, participated in Vanamahotsav along with Agonda Sarpanch Preetal Fernandes and BMC Agonda Chairperson Shaba Desai. BMC Members Suraj Naik Gaonkar, Vinod Phaldessai, Ex- sarpanch Fatima Rodrigues and other members.
The Ladakh delegation, led by UNDP SECURE Himalaya Project Officer Tanuj Nagpal, also visited the hundreds of years old Baniyan Tree at Partgal Mutt and the Nursery and Fish Aquarium at Hattipal Forest.
Shristhal BMC Chairman Vinay Tubki welcomed, and member Shirish Pai explained the various activities and functioning of BMC, including the preparation of PBR, while another member Damodar Chari, proposed a Vote of Thanks at a brief interactive function organised by Shristhal BMC.
All Shristhal BMC members, exsarpanch, and present panch Ganesh Gaonkar were present on this occasion. Canacona BDO Anil Naik also visited and interacted with the delegation and had a discussion held with members about PBR and functioning as well as activities of BMC.
The Ladakh delegation arrived in Goa for the exposure visit under UNDP, SECURE Himalaya Project; Project Officer Tanuj Nagpal also includes UNDP SECURE Himalaya Project UNV Ms Stanzin Namdol, UNDP Community Mobilizer Ms Palzes Angmo, BMC Chairperson Ms Thinles Angmo, BMC Chairperson Sonam Targais, BMC Chairperson. Ms Tsering Dawa, BMC Secretary Tsetan Dorjai, BMC Secretary Saleem Raza, BMC Secretary Ms Farida Bano and BMC Member Ms Tsering Chosdon.
Comment