Goemkarponn desk
CANACONA: In a most bizarre and highhandedness by Landlords, more than 100 years old 'Bhatti' (Toddy Distillation Unit) of a Toddy – Tapper (Render) of Palolem is razed down and burnt to ashes by a landlord on Wednesday.
Angered at the highhandedness of the Landlord's family member on Wednesday, the Render Community of Palolem has called an urgent meeting of the members on Thursday evening to discuss the serious issue where a registered distillery (Bhatti) of a member was forcefully demolished by the Landlord without any formal notice, terming it as a serious atrocity against the minority.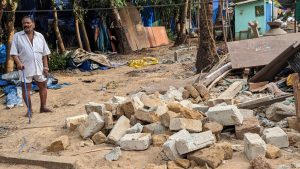 According to Toddy Tapper Piedade Cardoz, 86 years old of Palolem, a woman/lady member of the Landlord's family on Wednesday came and with a 'Koita' began to cut down the wooden pole and planks, brought down the hut, put fire and destroyed the 'Bhati' existing since my fathers time.
"I am 86 years now, my father who had put it and did toddy tapping occupation had passed away, I had continued, and in the same occupation, I had raised my family and children. This lady came to me and began to argue over the existence of our 'Bhati' (Distillery Unit Hut) next to my house, arrogantly threatening us to demolish this and that, pointing out to everything around my house," she said.
She added, "I told her you measure the land first, leave me my share of the land and then we will consider her other demands. On Tuesday, again, she came and cut some parts of the Bhatti and put a curtain, even blocking the wind at the place where we live. On Wednesday, she came, and with a 'Koiti' (Loita), she began to cut everything anything and brought down our 'Bhatti' and lit fire and burnt it," he said.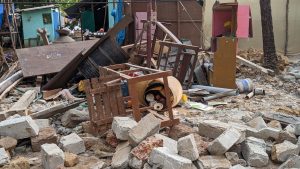 Pideade's son informed that the Bhatti is part of our house, and they also used our Bhatti to cook food and dine in the same for ages now. We don't have a place to cook and dine now. We pleaded with the Landlord's daughter-in-law to first provide us with our rightful piece of land and do what she wanted, but she went on to harass us like this and not only demolished but also burnt down our 100 years old 'Bhatti' (Toddy distillery Unit)'.
"We know what type of days we have lived here. Now, they want to put up shacks or some tourism structures but don't wants our welfare. We are still paying the distillery fees to the excise. In fact, we have a very good relationship with the Landlord, but suddenly this daughter-in-law of the Landlord began to create problems saying our house falls in her share of the property, and in spite of asking her to settle it amicably, she took this very highhanded action of demolishing our 100 years old Bhatti and destroying it in the fire.', informed the son of Cardoz.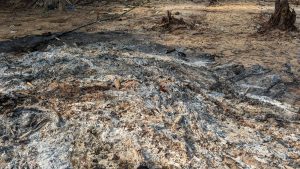 Meanwhile, an appeal by the Association of Minority Community called for a General Body meeting of all the association members on Thursday evening at 4 pm at the victim's residence.
Comment