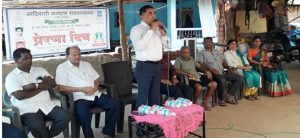 Goemkarponn desk
CANACONA: A visit by the Minister for Arts & Culture to Canacona taluka has exposed All-is-not-Well in the State Government.
Minister of Arts & Culture Govind Gaude, in a tribute to the infamous UTAA's Balli agitation Martyr, paid homage at the installation of a statue of Mangesh Gaonkar at Ziltawadi (Gaondongrim), and after that, also paid homage to Deelip Velip at Morpila (Quepem).

Gaude, at Gaondongrim, said, 'no one should make politics and take political mileage at the martyrdom of Mangesh Gaonkar. 'It is due to the Agitation and sacrifice of Mangesh and Deelip that the Gauda, Kunbi and Velip's got the benefits of various schemes from the government. The future generation should be aware of the sacrifices of Mangesh and Deelip, and hence the need for 'Prerna Din' is essential. No one should try to take political mileage out of the martyrdom of Mangesh and Deelip', said at the Statue installation function held near the residence of Mangesh at Ziltawadi-Goadongrim where the Statue of Mangesh was installed and garlanded on Wednesday morning.
At the ceremony, UTAA leader and former Minister Prakash Velip, Gomantak Gaud Marata Samaj President Vishwas Gaude, ex-MLA Vasudev Meng Gaonkar, ZP (Poinguinim) Shobhana Velip, Durgadas Gawde, father of Mangesh, Ex-Sarpanch (Cotigao) Daya Gaonkar, and other prominent members UTAA were present.
Speaking further, Gaude said, 'During the construction of Adivasi –Bhavan,' the Statues of Mangesh and Deelip will also be built there, and necessary government approval is already obtained for that. Whatever we ( the Gauda, Kunbiu and Velip Communities) are getting today is due to UTAA's efforts. UTAA leaders/Committee members had never expected or anticipated benefits for themselves or for their own benefits. The 24 schemes that we are getting today are only due to the agitations launched by UTAA and no one else."
Ex-Minister /UTAA leader Prakash Velip said, 'Mangesh and Deelip were the brave warriors from ST Community. Their sacrifice and martyrdom will never go to waste, and we will not allow that to happen. Dr Uday Gaonkar has written a book on UTAA activities and demands. Now I request someone should write a book on 'Balli Fire Rage'. Through UTAA, the people who have become top leaders may misguide others but won't be able to 'lie to themselves' and his own mind. 25th May, the day (both Mangesh Gaonkar and Deelip Velip, who were martyred at Balli) is observed as Prerna din at the government level. But for some, this pain in their stomach',
Incidentally, Canacona MLA/Speaker Ramesh Tawadkar, during his tenure as Poinguinim MLA, was one of the leaders that participated, and several ST community members who participated in the 2011-Balli Agitation were not present.
Comment