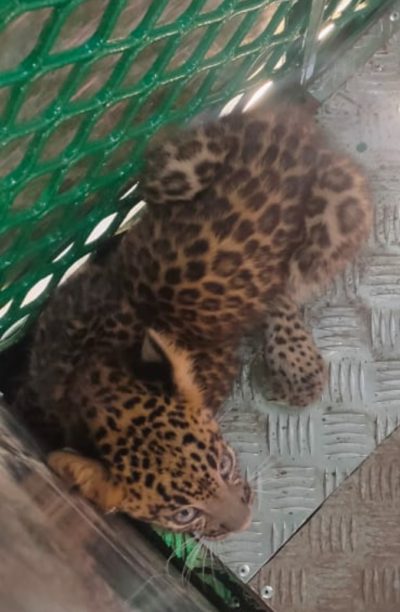 Goemkarponn desk
Canacona: It was an unusual site to behold on Tuesday morning at Patnem, a beach village to witness a leopard cub, stuck on a tree behind a residential house in the village.
The three month old leopard cub was later rescued by wild life rescue team.
Sources at Wild Life, Canacona informed that they received a call on Tuesday morning that a Leopard cub is stuck on a tree at Patnem and needs to be rescued.
The wild life rescue team after reaching the place where the cub was trapped realised that the cub which is about three months old is right up on a tree and rescuing it not going to be easy.
There was a fear that the cub might jump down from the tree which might be lethal to the young cub.
A net was spread under the tree and the assistance of fire and emergency services from Canacona was sought.
Also meantime rescue team from Pisonem Range arrived.
There gathered a huge crowd to witness the unusual scene of a leopard cub being rescued which made the rescue operation more dangerous as the cub was looking terrified with the presence of such a huge crowd around.
There was also a danger of the mother leopard arriving due to the constant cries of the baby cub for help from her mother.
Later when a rescuer was about to reach the cub on the tree the cub jumped down and fell into the net.
And just when the terrified cub was trying to run for its life, a rescue team member managed to catch the cub.
The cub which looked healthy and withoit any injuries from outside was immediately put in a metal cage and was taken to Hathipaul rescue centre in Cotigao wild life sanctuary.
When this correspondence asked about the well being of the cub, Anant Velip RFO informed that the cub looks healthy and was given first aid treatment and milk,  a decision will be taken soon whether to send the cub to Bondla Zoo for treatment or not" Velip said.
Comment