Goemkarponn desk
CANACONA: A leopard is rescued from a Well at Shelim-Loliem on Saturday after it struggled a whole night to keep itself afloat in a House well at Shelim-Loliem.
According to sources, it was about 10.30 pm, sounds of a dog howling noise came from nearby areas, and within half an hour, dogs and pigs began to make run helter-shelter and just when anticipated, a Leopard on an attack in the area.
"There was another commotion in our area, and a huge sound came from our neighbouring house well at 12.30 midnight as if something had fallen inside the Well. We didn't come out then as we anticipated, as usual, a Leopard may have attacked and taken away pigs and dogs from our area", informed a resident.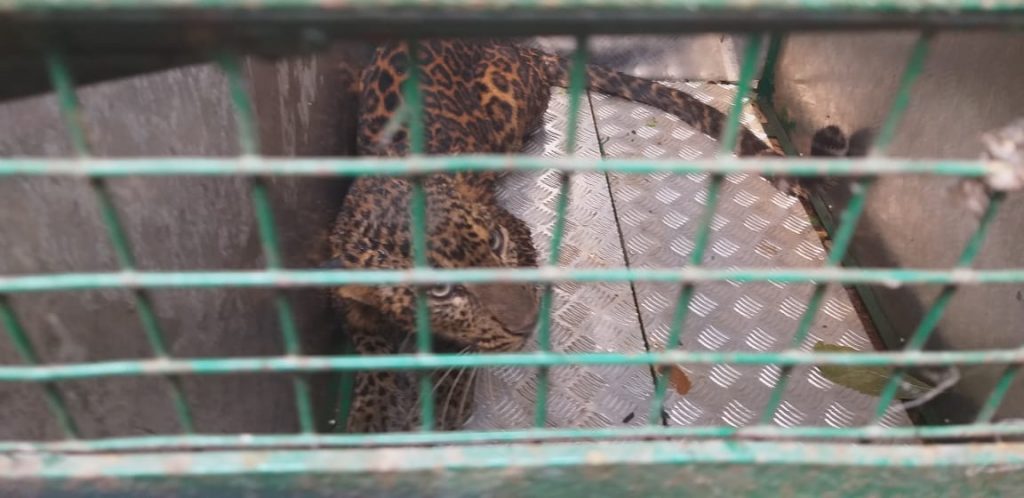 Sources further informed someone noticed a grown-up Leopard was struggling in the Well and immediately informed Forests officials at Hathipal Rescue Centre of Cotigao Wildlife Sanctuary. The team was alerted.
A fully grown-up Leopard running after its prey (either Pigs or Pet Dogs) has fallen into the Well.
"Previously, Leopards have been preying in our locality numerous times and have taken away literarily more than 50 pet dogs alone from our area, and every time we complained, no action came from the forest department; I myself had saved our pet dog. At least five times in the past, but coming out in time to the hysterical cries by our dog. We actually expect the forest department to catch these leopards straying in residential areas as they are not only a threat to domestic animals but also to people living in fear of them and take them away in some protected areas. We also expected forest officials' immediate reactions to people's calls. Today they came so late, but did a good job to rescue the leopard", informed a resident," Marchon Fernandes.
Forest (Wildlife) officials informed that they received a call at 8:30 am from Mrs Carmero of Shelli Pollen that one leopard fell in a well, and they immediately regrouped and arranged a rescue team and rescue equipment and reached the site. A Male leopard, approximately 5yr old, is seen struggling in well water. Started rescue operation at 9:30am and within 15 minutes safely rescued it and by 1130am released in Cotigao wildlife sanctuary.
"To friend their prey, wild animals often come into settlement areas", informed a forest official. A rescue operation was carried out by Canacona Range and a rescuer from CWLS.
Comment