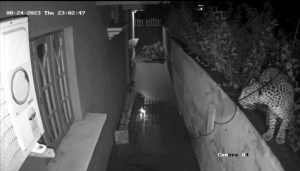 Goemkarponn desk
CANACONA: Amidst unconfirmed claims of sightings of striped tigers, leopards continue to foray in residential areas often targeting and taking away livestock in Canacona.
A resident's CCTV has lately captured a large Leopard foraying aside the bungalow at Agonda is the latest sighting of the wild cat now commonly feared often taking away livestock from the people.
The CCTV footage shows clearly as to how the leopard is preying on a dog safely inside the dog-house, not once but several times (a little past 11pm) coming in the camera frame virtually exploring to pounce on his prey.
Incidentally, following the sun-set, alternatively dogs in the area often barks violently even past midnight and sometimes even in dawn time.
While dogs and other livestock go missing more than once, people also get weary not only of sending their children out at dusk but always step out with great caution fearing attacks from wild cats.
The leopard sightings have over the period of time increased manifold as also the livestock of several people had gone missing overnight', informed a resident.
Meanwhile, according to some people they have more than once sighted a stripped tiger frequenting certain areas in Khola-Agonda-Shristhal areas.
One of the sources even pointed out he had sighted with his own eyes, how a large big-cat (according to him the Striped Tiger) was magnificently standing over a rock situated at a distance, eyeing a certain locality, when he was coming back home on his 2-wheeler.
Yet another villager claimed he saw a similar striped tiger, amidst at least 3 leopards foraying in the residential areas, prey on dogs and pigs reared in a ward situated across a river.
Comment