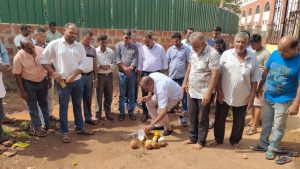 Goemkarponn desk
VASCO: Mormugao Municipal Council (MMC) Vice Chairperson Ramchandra Kamat on Monday said that he did not care for what people spoke but assured him to take many developmental works in his ward.
Kamat was speaking to reporters after launching works worth Rs 22 lakhs taken under the 15th Finance Commission in the presence of MMC Chairperson Leo Rodrigues, Councillors Prajay Mayekar, Damodar Kaskar, Majusha Pilankar and other residents.
"I don't care about what the people from the opposition speak, and I will prove myself with record-breaking development works in my ward in the next three years of my tenure. We have had many councillors elected but have yet to do anything in their tenure. I am a different kind of person, and I will take on many developmental works in my ward," said Kamat.
"We have launched two works today at Rs 22 lakhs, and we have pavers on the foot road between Ravindra Bhavan to Primary Health Centre in Baina. The people who visited the PHC at Baina faced a lot of hardships due to water logging in this area and uneven roads. We will also take up drainage works and pavers between Ravindra Bhavan and Baina PHC. We will have pavers set up here and complete the work within 8 days. We are also launching paver works in another part of my ward, and both these projects will be launched today," said Kamat.
MMC Chairperson Leo Rodrigues said that development works were being taken across all wards
"The works at Ravindra Bhavan are being carried out and will be completed within 8 days. We have a lot of people saying in Baina who use the foot road from the main road near Ravindra Bhavan. They faced immense hardships and met me, and the ward councillor Ramchandra Kamat and we decided to launch this works first. We also have a PHC and a Police outpost in this area, and this work will help them immensely. We are a part of the BJP Government, which takes development works at all levels, ranging from the municipality, panchayats and at MLA Level across all places in the state," said Rodrigues.
Comment