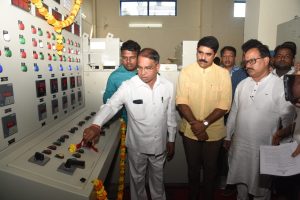 Goemkarponn desk
MALKARNEM: Minister for Water Resources Subhash Shirodkar in presence of Social Welfare Minister Subhash Phaldessai and Fatorda MLA Vijay Sardessai, commissioned the Lift Irrigation Scheme project at Malkarnem Sanguem today on the occasion of World Water Day.
This lift irrigation scheme is for pumping of water from Salaulim Irrigation project main canal to delivery tank at Ambetembo for distribution of water to Nagvem, Malkarnem and Zanodem villages of Quepem Taluka which was taken up at the cost of Rs. 32,81,92,800/-, for which Rs.28 crores soft loan has been provided by NABARD. 400 hectares of land of Nagvem, Malkarnem and Zanodem villages will benefit from this project.
Speaking on occasion Minister Subhash Shirodkar said it was a visionary decision of the then Chief Minister Late Bhausaheb Bandodkar to build a Salaulim dam. People should not oppose this type of public-oriented project. This lift irrigation scheme project is the third phase of lift irrigation from the Salaulim Dam canal. Water is a miraculous liquid gift from God and the environment, he pointed.
Further, he said, soon foundation for the dam at Kajumol Darbandora will be laid. Manke in Shiroda constituency and in Sattari taluka around 4 new dams would be taken up. He said Government will provide two tractors with each in North and South Goa, which will do both Tilling and plantation work.
He said the water resources Department is spread all over Goa. He urged people to preserve water and make use of it responsibly. Government is able to supply water across Goa. He also stressed the need to preserve the drains, rivers, streams, and ponds. "I have resolved today, on the auspicious day of Gudi Padwa, that I will not talk much but my work show".
Minister Subhash Phaldessai said growth in the green revolution will be taken up with the benefit of the lift irrigation project.
He appealed not to leave any land fallow and urged them to bring all the land under cultivation. He said Government will see that water will not fall short for irrigation purposes.
Various development plans have been planned for Sanguem Constituency in different sectors like tourism, agriculture, and water resources. Botanical Garden on Salaulim Dam will be developed at the cost of Rs. 30 crores, he said.
MLA Vijay Sardessai said he is happy to see that the project is completed in the stipulated time. This is a milestone and achievement for Government, Water Resources Department and Malkarnem Village. Sanguem is an agro-based constituency which needs water for irrigation. He said seeing is believing, and one should work with that spirit.
People should show the results of this project by taking maximum benefit by making optimum use of water. It should bring glamour to the agriculture field. Agriculture schemes should be popularized, he emphasized.
Sarpanch Rajesh Gaonkar said this project will benefit all farmers within Malkarnem Panchayat's jurisdiction.
This project has 5 Nos. of pumping units of 700 HP each. It also has a 33KV substation with a 2500 KVA transformer running on a 33/11 KV supply. This project has a micro-distribution network for water supply to the fields through the gravity flow, half-round RCC pipes with canal gates and a distribution chamber to the farmers' fields.
Cheif Engineer, WRD, Pramod Badami welcomed. Additional Chief Engineer, Shri Ankush Gaonkar, presented a vote of thanks.
Chairperson, Sanguem Municipal Council, Smt Seema Naik; Chairman, ST Corporation; Shri Vasudev Gaonkar; Zilla Panchayat Member, Shri Suresh Kepekar; Sarpanch, Malkarnem Village Panchayat, Shri Rajesh Gaonkar; Deputy Sarpanch, Shri Franky Colaco; Officer of NABARD, Shri Sushil Naik; Ex MLA, Shri Prasad Gaonkar, panchas and others were present on occasion.
Comment