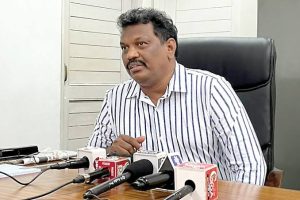 Goemkarponn Desk
CALANGUTE: Calangute MLA and BJP Leader Michael Lobo today has questioned as to why no action has been taken on the DIG who has abused people in clubs under the influence of alcohol.
Lobo was reacting to the recent incident wherein DIG has allegedly molested a tourist in club in North Goa.
"Goa Police should first take action against the DIG who got drunk and abused people in a club. If it was a politician or politician's son involved then there would be immediate action. Why no action on the DIG?" said Lobo
He further said that who is stopping from taking action against the DIG, is he the son of our soil?
"The police are taking action now only because an accident has been taken place. The proactive action should be continuous so that it acts as deterrent to offenders," he added
Lobo further said that Goa Police should first take action against the DIG who got drunk & abused people in a club.
The MLA said that all of a sudden police are trying to be over active and do all sort of things.
"Not right for cops to stand outside a bar and check. People have their business which will be affected. But a message should go out that nobody should drink and drive," he said
The Calangute MLA also said that people who drink in a bar and come out should not take the driver's seat, they should call someone or tell their friends to drive.
"Police should not try to put fear in the minds of people. The checks should not happen daily but may be in week or something," he added
The State government on Wednesday had withdrew the charge of DIG A Koan, IPS for allegedly misbehaving with a tourist woman in a famous pub at Baga, Calangute.
He had been asked to report to the Director General of Police (DGP) and the Ministry of Home Affairs (MHA), New Delhi has been informed about the incident.
The action came in the wake of allegations accusing the DIG of misbehaving with a woman tourist in a club at Baga, Calangute on Monday night.
The issue of IPS officer misbehaving with a woman was raised in the Assembly by Fatorda MLA Vijai Sardesai, who demanded that the IPS officer be suspended and relieved immediately.
Speaking on Garbage, Lobo said that excess garbage coming to the Saligao waste treatment plant gets accumulated at the Saligao site which gives rise to stink affecting the villages of Pilerne and other areas.
The concerned officers should take proper steps to dispose off the waste instead of sending all garbage to Saligao.
He said around 24 tonnes of garbage is being brought from Sonsoddo to the Saligao GTP everyday, following a HC order. "When I was waste management minister, I had initiated the garbage treatment plant at Margao. The plant is ready. It can treat the waste from Margao," he said.
Lobo said if the waste continues to be brought to the GTP at Saligao, the people there will come on the road and block the trucks. "We will not allow this," he said
Comment