Goemkarponn desk
PONDA: Fearing repeated flooding, locals at Dharbandora, Nirankal and Khandepar suggested dredging the Dudhsagar river basin. Locals said the Government had not conducted dredging activities in Khandepar or the Dudhsagar river for the past several decades, which needs to take urgent basis.
It may be recalled last year Right from Collem, Sacorda, Dharbandora, Davkon, Nirankal, Khandepar, Vagurme, Murdi, Baga, Vagurme, Volvoi, Usgao, and Ganjem Villages flooded, causing a major loss to the house and properties.
Locals said in recent years, they immediately experienced a flood in their area and therefore suggested dredging of a river basin and allowing extraction of sand which is currently banned by the Government. Sand extraction is needed to clear the smooth flow of flood water.
Sandeep Parkar at Khandepar said the destruction of nature for development works is one major reason for flood fury. He cited how NH was constructed at Khandepar by hill cutting and landfilling on the Bank of the river at Khandepar. Several trees were trimmed at Mollem for Tamnar Project. He said Government need to control all this to prevent a flood.
He said landfilling in low-lying areas for construction activities.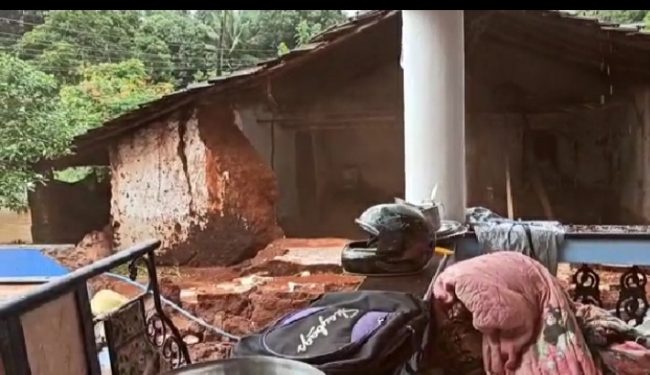 Secondly, he said there is massive destruction of hills that are levelled for construction activities and NH roads. These hills used to absorb rainwater and used to give us spring water throughout the year, which are now levelled, and with losing hills, the water on the ground flows into the river, increasing the water level in the river.
He said under CRZ rule, the Khandepar river falls in an eco-sensitive zone wherein there is a need to maintain a fifty-meter buffer zone along the river on both sides as per law. However, he pointed out violations of it with constructions in the low-lying area with landfilling.
Villagers at Nirankal, Ponda, who faces the fury of the overflowing Dudhsagar river, said that every year their houses flooded, and the road went under water.
The Locals suggested that dredging of the Undai river and the Mhadei river basin should be undertaken so that rainwater drains immediately into the sea. The Locals urged the Government to find an immediate solution to the problem.
Savordem MLA Ganesh Gaonkar said, "We need to seriously think to find measures to prevent a flood. But we can adopt some measures before we come to an exact solution."
He said the dredging activity should be taken in the river basin before the rain. He said there is badly need to shift 25 houses located on the river bank at Davkon and need proper rehabilitation. Once upon a time, locals used to extract sand, and there was no flooding. He further said the mining pits in the area are overflowing is another reason. We need to explore the option of constructing a retaining wall at the roadside in Davkon area to prevent flooding and also look at the option of interlinking of river.
Comment