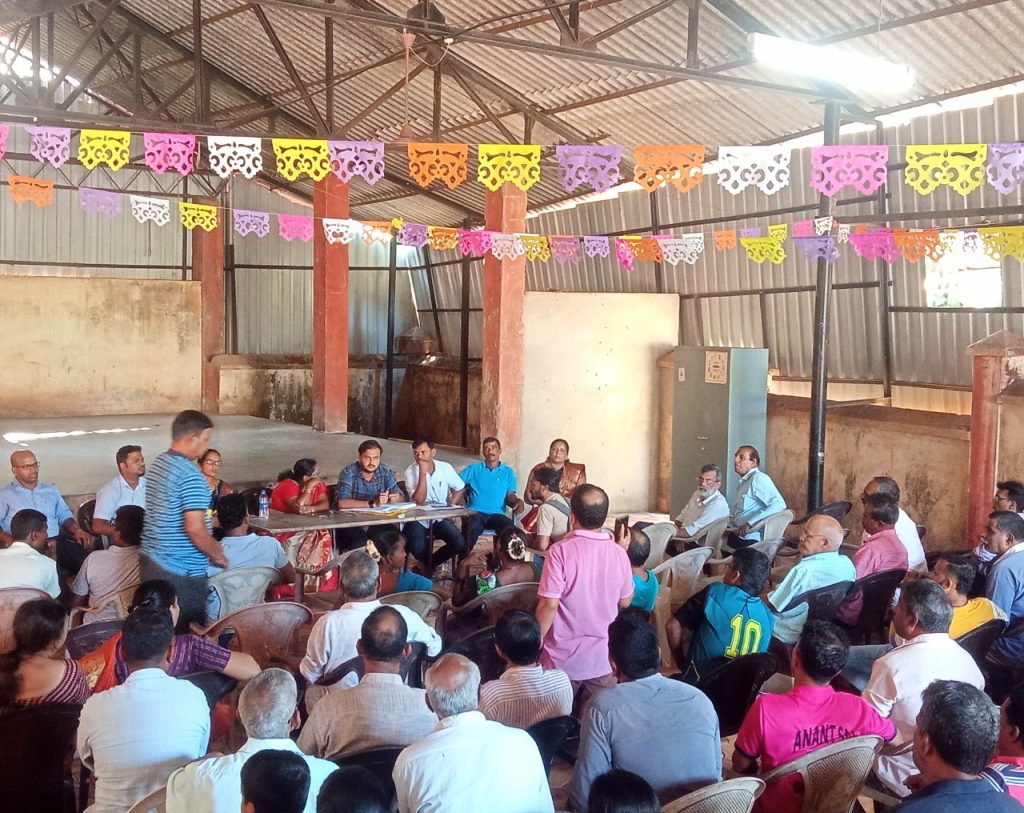 Goemkarponn desk
SAVOI-VEREM: Discussion at the ordinary Verem-Vaghurme Panchayat gram Sabha heated up as locals questioned Panchayat's members about unutilized funds sanctioned to carry out developmental work.
Active villager Shailesh Khedekar, supported by other villagers, questioned why does a small village like Savoi-Verem requires one more gymkhana when they already have two?
Village people at this time suggested that the fund be diverted and used to repair the crematorium, which, according to locals, is lacking in basic facilities. Villagers at this time lamented about the inconvenience caused at the crematorium due erratic supply of electricity, frequent water scarcity and inadequate storage facility for wood.
Answering this, Panch member Babu Gaude said, Panchayat can only utilize the aforementioned fund revenue generating activities. "The Panchayat must utilize the fund on activities that generates income for VP", said Gaude.
Khedekar, at this time, also raised a question about the delaying tactic adopted by the Panchayat in cutting the roadside bushes. "When all the other Panchayats in the vicinity of VP Vere-Vaghurme have completed the work of bush cutting, why is it pending only in this area ( VP Vere-Vaghurme)" asked Khedekar.
Highlighting the issue of drinking water scarcity faced by local people residing in internal parts of the village, former Panch member Minu Gaude requested the Panchayat to arrange a water tanker for affected people of Ghano, Savoi for at least two days a week. He further mentioned the street lights of ward No. 1 being non-functional for the past 3 months and requested Sarpanch Shobha Perni to resolve this issue as it becomes difficult for the villagers to commute through this area during late hours of the day.
Stating that freely roaming stray cattle have become a serious menace in the village, Ashok Naik requested that a permanent solution be found as stray cattle roaming freely on internal and main roads causes hindrance to traffic.
The ordinary meeting culminated with the assurance that the Panchayat body would try to resolve the issues raised by villagers within a noted time span.
Meanwhile, seven members each were chosen to form the Biodiversity and Beti Bachao Beti Padhao committee. 24 local members as well were chosen at this time to constitute the village development committee.
Comment