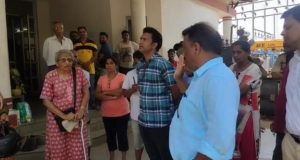 Goemkarponn desk
MAPUSA: Tensions ran high on Tuesday as residents of Nagao Dias Vaddo, along with local MLA Michael Lobo and Sarpanch Roshan Redkar, engaged in a heated dispute over the proposed erection of a mobile tower near the substation.
The locals strongly opposed the tower, citing concerns about its impact on the residential area.
The villagers voiced their opinions and argued that setting up a mobile tower in a residential locality was inappropriate.
Instead, they proposed the installation of signal boosters, which would allow the capturing of signals in a limited range. This alternative solution was suggested after meeting with the locals to ensure that the booster could provide signal coverage specifically to the people in that area.
MLA Michael Lobo, aligning with the villagers' sentiments, opposed the construction of a mobile tower. He emphasized the importance of proper networking for the future generation, particularly students who heavily rely on Android mobile devices for their studies, which require a stable internet connection. Lobo suggested installing signal boosters would be more beneficial and sufficient for the area's needs.
The clash between MLA Michael Lobo, Sarpanch Roshan Redkar, and the local residents highlights the need for a comprehensive and consensus-driven approach to address the connectivity requirements of Nagao Dias Vaddo. Recognizing the concerns raised by the villagers, both Lobo and Redkar urged the people and the booster company to collaborate in creating awareness and instilling confidence among the locals. Their goal is to ensure that the proposed booster tower will not harm the community.
The suggested location for installing the signal booster is above the electricity department near the substation in Nagoa. This strategic placement aims to maximize the signal coverage while minimizing potential disruptions or risks.
Comment