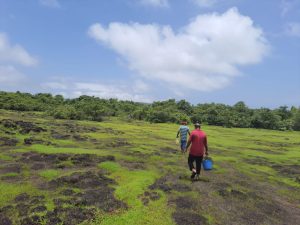 Goemkarponn desk
CANACONA: With the components of Loliem Communidade unanimously allowing, a willing Executive Body of Loliem Communidade wins Race but only a Level-I to submit proposal for a 'Film City' in Loliem – Canacona.
'Meeting was good, and it is decided to submit the proposal for a 'Film City' to the Entertainment Society of Goa (ESG) in Communidade land at Loliem', is how Loliem Communidade President Vishwajeet Warik responded when asked about the conduct and outcome of the much hyped Loliem Communidade General Body meeting slated for Sunday. 41 components and shareholders of Loliem Communidade attends the meeting to resolve facourably to a film city in communidade land
When asked whether Panchayat and Gramsabha would be approached to take their consent, Warik informed, 'no, as of now we don't know whether ESG will positively consider our proposal or no. We will submit our proposal to ESG, and ESG had to decide from the various proposals they might be receiving from elsewhere in the State,. If they consider our proposal as suitable, then we will do the further process.'
Incidentally, there are rumors that some private property owners have also submitted or are in the process of making offers of their properties in the village , considering the Film City would be a prestigious project.
When asked whether any opposition have erupted in the meeting over the issue, Warik informed, ' The meeting was called at 10.00 but it was started by 10.30 with more than double of the required Quorum. It was explained to the components including a few who had queries on the issue, thereafter the matter was settled unanimously to
When asked, Warik claimed ' yes, there are many proposals it seems but nothing is materialised as such. I heard many proposals are going from Loliem itself but most of them (Proposals) lacks in the required feasibility. Nothing haqs happened till now. ESG's base requirement of land is 250 acress which literarily comes to 10 lakhs sqm. Only Communidade in Loliem has that amount of land.
Comment