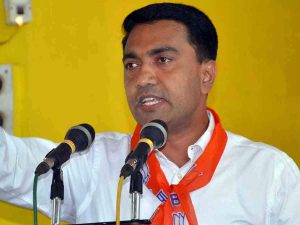 Goemkarponn desk
INDORE: Chief Minister of Goa Pramod Sawant has said that he thinks Madhya Pradesh is the first state to make women financially self-reliant and later the work started in other states.
He made the remark while addressing media persons in Madhya Pradesh's Indore on Monday. "Women empowerment of Madhya Pradesh is talked about in the entire country, which was first started in the form of Ladli Lakshmi Yojana here, followed by Kanyadaan Yojana, and Ladli Bahna Yojana. I think the work of making a woman financially self-reliant started first in Madhya Pradesh and laterit started in other states. Today, I think that 50 pc reservation for women is not there in any state," Goa CM said. Madhya Pradesh is an agricultural state. Here, the budget for farmers which used to be Rs 600 crore during the time of Congress, has been increased almost four times now. The government and the BJP workers have always been at the forefront to ensure that every agricultural scheme reaches every farmer. The Madhya Pradesh government is at the forefront in the tap water scheme in the entire country, he added.
The Goa CM also said,"I have come to address the people in the Jan Ashirwad Yatra and seek blessings from the people for the double engine government of the Bharatiya Janata Party (BJP). I know that Chief Minister Shivraj Singh Chauhan has been doing very good work for years in the state."Meanwhile, Speaking to ANI, Sawant extended congratulations to prime minister Narendra Modi for the G-20 meeting held in New Delhi.
"First of all I congratulate Prime Minister Narendra Modi. We got the presidency of G20 and it was organised in over 20 cities across the nation. Every event was a great event. Nine meetings were also organised in Goa, including the Tourism meeting and Power meetings," he said. In this G20 declaration in Delhi, it was accepted by all the members from the different countries. And under this, the new country was added by PM Modi is a big thing. Everyone says that such an event had never been organised before. Everyone has appreciated PM Modi, the Goa CM said.
Notably, Prime Minister Narendra Modi said on Saturday that the African Union (AU) was made a permanent member of the Group of 20 countries.
"With everyone's approval, I request the AU head to take his seat as a permanent G20 member," Modi said in his address.
Comment