Goemkarponn desk
KERI: Although the Special Leave Petitions filed by three states are pending before the Supreme Court for the hearing, Maharashtra has commenced the work of the Virdi dam in Dodamarg taluka in Maharashtra, informed Environmentalist Rajendra Kerkar.
Kerkar told Goemkarponn that from the morning, along with the excavators, trucks and labourers, Maharashtra has commenced the work of the Virdi dam across the Kattika nallah, a tributary of the Valvont river in the jurisdiction of Virdi Village Panchayat of Dodamarg taluka,3.5 km away from the borders of Goa.

The ongoing work of the Virdi dam was stopped in February 2015 after the Mhadei Water Dispute Tribunal ordered the Government of Maharashtra to resume the work after obtaining the necessary environment and other statutory clearances.
On August 14, 2018, the Tribunal gave the final award and allocated Maharashtra 1.33 TMC ft of water for in-basin use.
However, Goa, Maharashtra and Karnataka have filed special leave petitions before the Supreme court to enhance water share, and the matter is pending the hearing.
Kerkar, who visited Virdi on Sunday and Monday, said, "When I visited the site, work of the dam has been commenced, with the help of machines. Trees have been cleared from the Kattika nallah, and vegetation that was lying near the excavated tunnel has been cleared and burnt. After almost seven years, Virdi dam work has resumed."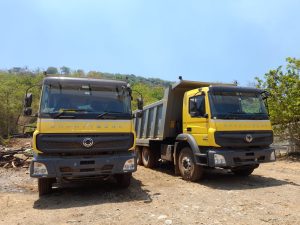 He said without obtaining any statutory clearances, the Maharashtra government has completed major work on the Virdi dam, having a length of 736 mts, and a height of 48.375 mts, to create a live storage of 14.138 MCM of water.
V.I.Shetty construction from Hubbali has been involved in the work of the Virdi dam.
Maharashtra has been allocated by the Tribunal to divert 1.33 tmc ft of the Mhadei water by constructing irrigation tanks at Shidbache mol, Morachi Rai and Dhangarwadi of Virdi and Amadgao of Dodamarg taluka.
Comment