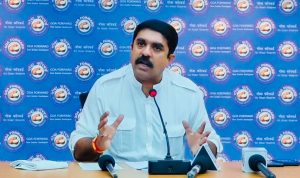 Goemkarponn desk
PANAJI: Goa Forward Chief and Fatorda MLA Vijai Sardesai said that maintaining communal harmony is a bigger cause than Lok Sabha elections.
He said, "Elections will come and go, governments will come and go; but communal harmony must be maintained. That's our duty as Goans."
Sardesai in a press statement stated that it's distressing to see communal harmony being wilfully disturbed because of elections, with the intention of polarising a section of the voters.
"As a Hindu, I want to emphatically state that we don't need people from outside to tell us, Goemkars, how to be Hindus or how to follow Hinduism. We have valiantly protected our religion, and our temples for centuries. We don't need outsiders to instruct or teach us anything," he said.
He added, Goa embraces the idea of India, which embodies religious tolerance and peaceful co-existence, more passionately, sincerely, and truthfully than the rest of India.
"While we often see riots in other parts of the country, among Goans, such communal tension and enmity do not exist. There are clear attempts to create communal disturbances because some deceitful minds who encourage divisiveness feel that they won't get votes. They spread the communal virus only to garner votes," he said.
Sardesai further stated that in Goa, maintaining communal harmony is much more important than the Lok Sabha elections. Unity among all religions is crucial.
"The Hindus of Goa, who are peace-loving, right-thinking, and secular, need to speak out. We must send a clear message that we are knowledgeable, socio-politically aware, and discerning. We do not need anyone to tell us who our enemies are," he said.
Whether it's Lairai Devi or Milagres Saibinn, they are our goddesses and an integral part of our rich culture, he said.
"To me, raising awareness about our culture and promoting religious harmony is a more significant cause than any election, and for that, I will wholeheartedly contribute," Sardesai said.
Comment