Goa Lokotsav Starts Sans NoC from Fire Dept
Dept only provides extinguishers and vehicles, "no permission or NoC granted"
Goemkarponn desk
PANAJI: Negligence by the Directorate of Art and Culture department in taking the preventive measure against Fire turned out to be disastrous for the visitors and the participants at Lokotsav-2023 as Fire broke out at Kala Academy on Tuesday, the very second day of the beginning of this 10-day long grand event.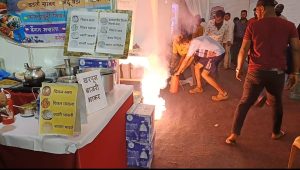 When spoken to a visitor, Asmita Nevgi from Bicholim said, "It appears as if the organisers are playing with the lives of the visitors and the exhibitors by flouting the norms of fire safety. I was present at the Lokotsav food stall when the Fire broke out due to a short circuit. Everyone was running here and there, searching for a fire extinguisher and making frantic efforts to douse the fire".
Somehow the Fire was brought under control by the Fire Brigade.
The most shocking part was that the Goa Lokotsav was running without the NoC from Fire bridge.
Asst Divisional Officer Ajith Kamat told Goemkarponn that the Fire Department has not granted any NoC to the Goa Lokotsav.
"We had asked them for certain compliances, which they have not done," he said.
Sources in Fire Department said that they have only given extinguishers and a vehicle f. or the festival, and "No permission is granted."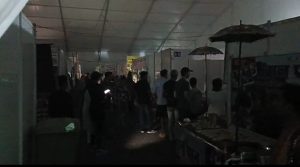 "The Fire was in the S-13 food stall, and luckily we were able to douse the Fire in time. The Fire was due to overloading on the electrical line and the sub-standard electrical wires used," said an officer who did not want to be named.
The officer said the overloading happens almost every year, but the authorities fail to take any action.
He said the festival underway is flouting all norms, as there has to be an acceptable gap between stalls.
"They have packed the area like anything, which can lead to major tragedy," he said.
Shopkeepers too unhappy
Speaking out of concern, Nevgi said, "Dozens of food stalls have been set up at the Lokotsav. These stalls use highly flammable LPG gas cylinders for cooking. Occurrence of fire incidents due to the negligence of authority is condemnable".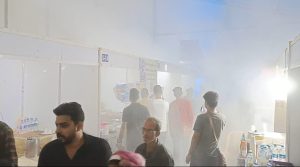 Expressing distress, a lady cloth shop owner from Gujarat said, "Two days have crossed since I set up a cloth selling shop at Lokotsav. Organisers, though they have taken rent from us, have still not been given an electricity connection".
She said we are facing serious problems due to the Lack of electricity connection. Also, the few who are gi en the electricity connection face frequent power outages and severe electricity fluctuations.
"Lack of fans and lights is proving to be a major setback for our business. Lack of electricity is forcing the customers to skip our shop and move ahead", she added.
A footwear stall owner, Gayatri from Rajasthan, lamented for still not having given an electricity connection. She added that they have paid an amount of Rs 12,000 as rent towards setting up of footwear stall for Lokotsav.
Yet another footwear stall owner Kishor Subhramannyam said the Art and Culture department has levied Rs 12,000 as a rental charge towards setting up of footwear stall. He lamented that the customers are turning their back towards his store due to Lack of electricity connection. "Customers are visiting the store but not purchasing the footwear due to darkness".
It can be noted that over 800 craftspersons and 600 performing artists from across the country, including Rajasthan, Haryana, Madhya Pradesh, Uttar Pradesh, Gujarat, Maharashtra, Manipur, Assam, West Bengal, Orissa, Karnataka etc, have participated in the the10-day long folk festival 'Lokotsav-2023' which is scheduled to be held from January 31 to February 8 at the Darya Sangam, Kala Academy, Panjim.
Comment