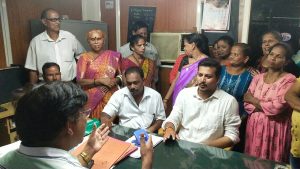 Goemkarponn Desk
MANDREM: Claiming that frequent power cuts have affected the studies of students and preparing tiffin's, Mandrem Congress Block has warned to hit the roads if power department fails to provide uninterrupted supply.
Mandre Congress Block President Narayan Redkar along with villagers met the concern officers and asked to provide uninterrupted electricity supply.
District General Secretary Pranav Parab, Minguel Fernandes, Ramchandra Palyekar, Arun Vast, Babuso Talkar, Pradeep Sawant, Dinesh Narvekar, John Dsouza
and other Congress Workers were present.
Kaveri Dhuri, Naveeta thakur, Jackine Dsouza ,Priti Redkar Ashwini talkar, Rima Harji, Diksha Vaigankar, Sejal Thakur, Sejal thakur, Letisia Rodriguez, Suriya Naik and Shashikala Naik vented anger on authorities for failing to provide uninterrupted electricity.
Narayan Redkar said that since last many months Mandre is facing power supply issue, however power department has turned Nelson's Eye over it.
"Very often the shutdown is announced by the department. But people don't come to know about it as everybody don't read newspapers. They should move a vehicle with audio announcement of same," he said.
He said that because of power failures, students are not able to study at home and homemakers are not able to cook.
"If this problem is not resolved we will hit the roads," he warned.
Pranav Parab said that poor people are suffering due to frequent power cuts. "It is affecting health of people as even fans can't be operated. Government has become insensitive," he said.
"Power Minister should resign if he can't handle the department," Parab demanded.
Womenfolk present at the power department in Mandre vented anger against government stating it has failed to give 'Good days' to the people.
"We are not able to cook food for our family. Now and then power cuts are witnessed. We have to be depend on kerosene lamps during night time," women complained.
Comment