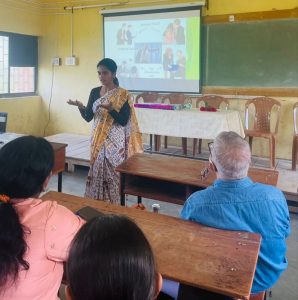 Goemkarponn desk
MAYEM: Government Polytechnic Mayem, Bicholim organized an awareness session on sexual harassment at the workplace for the employees on the eve of 'International day for the elimination of violence against women harassment, which is celebrated today.
Ketaki Parab Gadekar, a psychologist and a social worker, was called upon as a guest lecturer to deliver a talk on the prevention, prohibition and redressal of sexual harassment in the workplace.
The talk was organized on the occasion of 'International day for the elimination of violence against women to create awareness about the Prevention, Prohibition and Redressal Act, 2013' with respect to the Sexual Harassment of women in the workplace.
Stating that sexual harassment is a punishable offence, Gadekar said not just the physical touch but passing sexual comments or asking for sexual favour is also an act of sexual harassment and is punishable as per law.
Furthermore, Gadekar elucidated on the POSH law (Prevention of Sexual Harassment) Act of India, which mandates every organization to define their sexual harassment policies, prevention systems, procedures and service rules for its employees.
Gadekar also spoke about the necessity of forming an Internal Complaints Committee (ICC) to prevent sexual harassment in workplaces. Key sub-topics such as how to prevent the act of sexual harassment, remedies and procedure of enquiry, the time frame within which a complaint is required to be redressed, and how the action against the offender is to be taken were also presented in the form of a PowerPoint presentation.
In his welcome speech, Dr Mahesh Dani, Head of the Mechanical Department, spoke about the importance of women in our society.
He highlighted 'why women should be valued in society.
Dr Pramodini Naik, HoD Civil and Chairperson of ICC, was also present at the desk.
Lect. Pranjal Marathe introduced the guest while lect. Shreya Shetgaonkar proposed the vote of thanks.
Comment