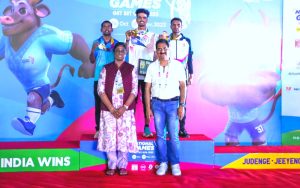 Goa, October 29th, 2023: The inclusion of Pencak Silat in the National Games has helped Goa showcase their best ever performance in the National Games. Goa secured one Gold and six bronze medals in the final day of Pencak Silat competitions which was held here at the Campal Sports Village. Goa won a total of one Gold, one Silver and 11 bronze medals from Pencak Silat taking their total tally of medals to 22 already which is 17 more than what the state managed to secure in the previous edition.
In the final categories of weightlifting at the Campal Sports Village, Purnima Pandey of Uttar Pradesh clinched the gold medal in the 87+ Women's lifting a total weight of 222 Kg. Kerala's Ann Mariya M.T secured the silver with a total lift of 206 Kg and Yogita Khedkar of Maharashtra took the bronze lifting 198 Kg. In the final event of the weightlifting competition, in the 109+ category Men, Vipan Kumar of SSCB won the gold lifting an aggregate weight of 348 Kg. Tamil Nadu's S. Rudramayan won the silver medal with a total lift of 343 Kg and Bronze medal was secured by Gagandeep Gill of Punjab who lifted a total of 339 Kg.
Table Tennis also got underway at the Campal Multipurpose Indoor Stadium with the team matches starting from today. In Men's category, West Bengal beat Haryana 3-0 in Group A, while Maharashtra beat hosts Goa 3-0 in the same group. In Group B, Delhi edged out Telangana 3-2 while Uttar Pradesh also beat Assam in the same score line.
In the Women's category, West Bengal beat Tamil Nadu 3-0 with Indian international, Mouma Das winning her match against Selena Selvakumar in Group B. In the other match of the group, Madhya Pradesh defeated Goa 3-0. In Group A, Maharashtra beat Haryana 3-1 with Diya Chitale winning her rubber against fellow international Suhana Saini. In the other match of the group, Delhi beat Karnataka 3-2. In the second round of Group B, West Bengal beat Madhya Pradesh 3-2 for their second win.
Comment