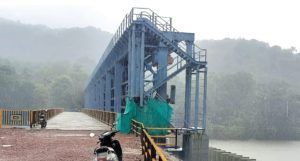 Goemkapronn desk
PONDA: If Karnataka succeeds in the Mhadei river diversion, it may dry Ganjem Bandhara leading to a shortage of water in Tiswadi, Ponda, during the summer season.
The Ganjem Bandhara water is pumped and released into OPA Khandepar river in the month of summer when the water level in OPA is reduced.
If the Mhadei river is diverted, it may dry the Ganjem Bandhara causing water shortage at Tiswadi and Ponda in summer, reveal experts.
OPA Water Treatment Plant supplies around 160 MLD of water per day to Tiswadi and Ponda Taluka.
The various OPA treatment plants treat raw water from
Dudhsagar, another tributary of Mhadei flowing from Collem Dhatbandora.
There are 24 Bandharas on this river storing water to meet summer requirements, beside OPA gets 48 MLD water from the Salaulim dam released through Kalley river into OPA river, where various Bandharas store water.
When the water level reduces in the OPA river Bandhara, water stored is released. As it falls short in the summer months, Ganjem Bandhara water is also pumped into OPA river.
Besides, the Dudhsagar river and Salaulim dam water the Ganjem Bandhara at Usgao, based on the Mhadei river from Sattari, also augments water to OPA Plant at Khandepar.
If the Mhadei river that flows from Sattari from Karnataka is diverted, then it will likely hit storage capacity in Ganjem Bandhara, and if sufficient water cannot be stored in it in March, April, May, it may not be able to augment water supply to OPA causing chances of causing water shortage to Panjim and Ponda.
Comment