Goemkarponn Desk
PANAJI: Hell bent to win Karnataka polls, the BJP and Congress has let down Goans on Mhadei river issue, as the national parties has assured people of Karnataka to complete Mhadei river diversion projects at the earliest.
In the election manifesto released by both the parties, the focus has been on completing various irrigational projects including over river Mhadei.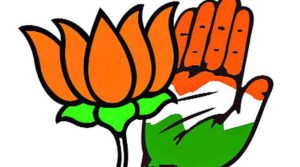 The manifesto released by BJP national president J P Nadda states that Karnataka will have a comprehensive irrigation system. "All irrigation projects like Bhadra, Upper Krishna, Kalasa Bhandura will be completed in a time-bound manner".
It also ensured 100 per cent coverage of all existing lift irrigation projects with Field Irrigation Channels and implementation of Israeli model of drip irrigation. The PM Krishi Sinchayee Yojana for last-mile delivery of water to farms will also be leveraged.
BJP has failed to implement Mahadayi project denying 3.9 TMC of clean drinking water to over 50 lakh residents living across Belagavi, Hubli and Dharwad districts.
The Congress manifesto also states that action will be taken to obtain necessary clearances from the Union Government that is 100% of the Mahadayi water allocated to Karnataka will be utilised and Rs 500 crore will be allocated in the first cabinet meeting.
"All the components of Mahadayi river diversion projects shall be completed in the next 5 years with a total outlay of Rs 3000 Cr," the manifesto states
Several Goa BJP leaders including CM and health minister, who have assured its people here not to allow any diversion of Mhadei river, have vigorously campaigned in Karnataka to ensure party's victory in the upcoming polls. They both have remained silent on the party's manifesto.
On the other hand, Congress in Goa, who left no stone unturned to blame and accuse BJP government of selling Mhadei, are today left red faced following their party assurance to people of Karnataka.
The two states have been in conflict over the river's water. In 2018, the tribunal granted Karnataka a portion of the water but both states have challenged the decision. The Goa assembly recently passed a resolution objecting to the diversion of water.
The Centre recently approved a proposed project by Karnataka to construct two dams. The chief minister has stated that the Goa government will protect the state's interests.
Since the proposal was made in 2002, the Karnataka government, led by SM Krishna as chief minister from 2009 to 2012, decided to put the project into action once the Centre gave its approval.
Goa, under the then CM Manohar Parrikar, asked the Centre to assess and allocate water to the three basin states. However, due to protests in Goa and concerns over ecological damage, the project was put on hold.
In 2006, Goa approached the Supreme Court seeking the creation of a Tribunal to settle the water-sharing dispute and the Mhadei Water Disputes Tribunal (MWDT) was set up in 2010 by the Central government.
Comment