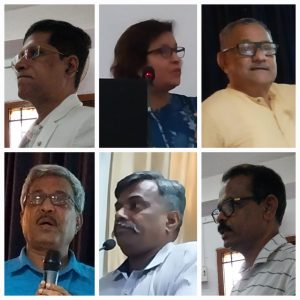 Goemkarponn Desk
PANAJI: The two day workshop on 'Mhadei: A Multidisciplinary Exploration', organized by the Multidisciplinary Cluster on Mhadei (MCM), Goa University, concluded with a call for close collaboration between the government, experts and the civil society in Goa in order to generate greater knowledge base and action on protecting and preserving the river.
The first day of the workshop, inaugurated by Advocate General ,Goa, Mr. Davidas Pangam, included presentations on the scientific and technical dimensions of Mhadei river, particularly those pertaining to the proposed diversion.
The study done on the Mhadei watershed by Dr. Manoj Ibrampukar pointed out that diversion will lead to reduced water discharge during both monsoon and non monsoon seasons, affecting preservation of dry water flows and reduction in sediment load.
The paper by Dr. Vidyadhar Atkore, on impact of proposed diversion on fresh fishwater diversity pointed out that some endemic species of fish have lost their critical habitat due to the Kalsa Bhanduri diversion project.
A preliminary study on geomorphic trends in Mhadei by Disha Karapurkar reveals that the river is susceptible to both natural and anthropogenic influences and would require conscious policy decisions to conserve and protect the integrity of the river.
Dr Nitin Sawant in his study on the biodiversity impact of proposed diversion, listed out the endemic species of plants and animals dependent on fresh water sources in the region and pointed out that the change in the flow of the river could deeply impact dependent species, in turn affecting human populations.
A preliminary study by Heena Gaude and Sweta Bhonsle focusing on economic impact of Mhadei on people's lives , sought to analyse relationship between watershed delineation, agriculture index and recharging of wells using GIS mapping techniques. Sara George from Living Waters Museum spoke about her digital initiative which has been documenting, curating, communicating the rich traditions of water heritage in India, and the ongoing project on Goa Water Stories.
Tahir Noronha's paper proposed grant of a legal status to the rights of river Mhadei, in the context of global 'Rights of Nature' movement and national examples such as Ganges being given legal status as per the High Court judgment, protecting its right to flow freely.
Ravaji Gaunkar spoke of the role and responses of village communities, which are often caught between issues of livelihood around Mhadei and the 'Politics of Mhadei'. Prof. Rahul Tripathi, in his presentation questioned the role of the state as well the civil society in not being consistent in appreciating and understanding the larger context of Mhadei issue and in the process hampering Goa's case for protecting the river. He urged on filling the knowledge deficit on the issue to overcome the political deficit and creating spaces for dialogue within and beyond the state.
Comment