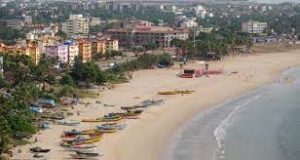 Goemkarponn desk
MORMUGAO: Mormugao Municipal Council (MMC) today has issued a public notice asking residents of the areas prone to natural calamities within its jurisdiction to immediately vacate houses or premises in such areas.
MMC said that landslides and water logging has been observed in areas such as behind MPT Quarters-Bogda, behind Bogdeshwar Temple- Bogda, behind El-Monte Theatre-Desterro, Upper Jetty-Mormugao, Islampur-Baina, Near Holy Cross-Sasmolem, Candelaria Church.
Also, New Vaddem-Vasco, Driver Hill, Khariwada, Sada, Bogda, Desterro, Baina, Harbour Jetty, Mangor Hill, Vaddem, New Vaddem within Jurisdiction of Mormugao Municipal Council, Vasco-da- Gama for past many years the Municipality has warned that these places and areas are unsafe during the monsoons.
MMC, in its notice, said that these above-cited places/areas are prone to natural calamities and the possibilities of further likely damages to the said areas could not be ruled out, especially during monsoon.
Therefore, MMC has requested the public, in general, are hereby appealed to immediately vacate such houses/premises with household materials as a safety measure since there is a possible danger to the lives of the occupants, especially during monsoon season, and to co-operate with the administration during untoward incidents and movements of crisis.
"The occupants of the said houses choosing to continue residing in such houses wherein the notices have already been issued in the past, the houses which are located in seemingly dangerous conditions will be doing so at their own risk and shall be responsible for consequences if any, arising in the near future because of landslides etc., the notice states.
Comment