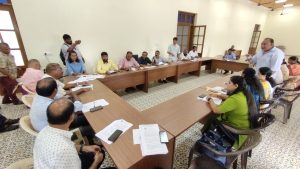 Goemkarponn Desk
MORMUGAO: The Mormugao Municipal Council ( MMC ) council meeting on Friday witnessed chaotic moments with heated discussions on various issues including the sub letting of the MMC property which was being used by Indian Oil Corporation Limited ( IOCL.
The heated arguments began as the meeting started with Councillors deferring on many points on the minutes that had come for confirmation from the previous council meeting.
The argument began when the meeting decided to discuss on issue of NOC to Arvi Encon Ltd to set up a factory on the land being leased to IOCL with many Councillors saying that the IOCL could not sublet the MMC premises and that NOC to anyone else would only start a bad precedent.
Other issues that saw heated discussion was utilisation of Rs 81 lakhs from 15th Finance towards the proposal to reconstruct of old vegetable pavilion and market shed, a proposal by a company to erect Mobile Tower at the Sada market complex and procuring of a crane for pruning and cutting of dangerous trees.
The major issue that rocked the council meeting was non availability of Municipal Engineers to attend pre monsoon and other works of the council
Councillor Amay Chopdekar said that the MMC had only one tree cutter for 25 wards and that there was an immediate need to have more tree cutters.
Chopdekar also said that the with the recent transfers of municipal staff, the MMC had only one engineer and this has affected a lot of pre monsoon works across many wards.
Many of the councillors also opposed the proposal on waiver of interest from the outstanding lease rent of the Goa State Co Op Marketing and Supply federation Ltd stating that the MMC was already reeling under financial issues and as such waivers should not be allowed.
Speaking to reporters after the council meeting, MMC Chairperson Leo Rodrigues said that MMC had rejected the proposal for the waiver of Rs 17 lakhs interest from the Goa State Co Op Marketing and Supply federation Ltd
"The IOCL has already given our premises to another company who approached us for the NOC and many Councillors were shocked to realise this and questioned how IOCL who is on lease in our property can sublet it to another party . We will immediately carry out a site inspection and take a next call after calling IOCL for a meeting. " Said Rodrigues
"We had an old Vegetable market and a proposal for reconstruction was placed before the council . The cost of re construction was approximately 1.8 crores and while we have a sanction of Rs 1 crore under special assistance towards 60th year of Goa Liberation Day , we will use the remaining balance of Rs 81 lakhs from the 15th Finance commission and get the market ready ." Said Rodrigues
" We had put a proposal to purchase a crane to prune and cut dangerous trees and we are as of now using cranes from other organisations. We are trying to purchase the crane under CSR Funds from Goa Shipyard Limited . We have also recieved a proposal that MMC will get Rs 40,000 a month for setting up a tower on top of Sada Market but we have kept it further discussion after which we will decide on the issue " said Rodrigues.
Comment