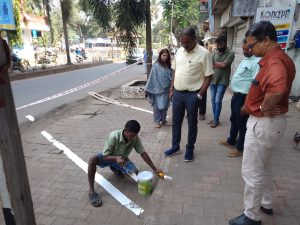 Goemkarponn desk
VASCO: Mormugao Municipal Council (MMC ), along with Rotary Club of Vasco Da Gama, took up the initiative for drawing parking lines for four-wheeler parking in the city.
Speaking to the media l, Vasco city Councillor Shami Salkar said that the initiative was taken to bring about discipline in the parking situation in the city
"Vasco is very congested, and there is practically no space with the rise in population and vehicles. People often also park haphazardly and waste a lot of parking space, so we have decided to have proper marking lines to ensure proper parking of four-wheelers. We are creating proper space for parking, and we have also met the traffic police and requested them to fine people for haphazard parking. I appeal to the people to maintain discipline if we need space for everyone to park their vehicles. These projects are taken to make the city decongested and instil discipline because the traffic sense amongst people in Vasco has been reducing every passing day," said Salkar.
MMC Chairperson Leo Rodrigues said that MMC had been very active in taking steps to instil discipline and decongest the city
"We have taken a series of drives that includes anti-encroachment drives in the fruits market, clearing the footpaths in the vegetable market, clearing abandoned vehicles and now drawing of parking lines. After the recent campaign to clear 60 abandoned cars, we got a lot of space that was otherwise being wasted and occupied by these vehicles. We now have taken a joint initiative with the rotary club to get the marking lines so that the valuable parking space is not wasted by haphazard parking where sometimes a vehicle parked horizontally could accommodate three vehicles in a slanting fashion. These lines are essential to have a proper parking system, and we wi also take a drive along with the Traffic police to heavily fine vehicles that cause obstruction or park haphazardly. We will also have proper signboards indicating designated two-wheeler and four-wheeler parking and no parking areas," said Rodrigues.
Sanjay Satardekar, the project manager of the Rotary club of Vasco, said that the initiative was to create ample parking space
"We have seen that parking available for 15 cars can accommodate only five cars as many parks haphazardly and create issues for other vehicles. We will now mark the areas and install boards so that two-wheelers don't waste the parking meant for four-wheelers and vice versa. This will bring a lot of discipline, and there will be systematic parking in the city, and sufficient vehicles can be parked. Almost every house has a car, but they don't get parking when they come to the town, and this initiative will resolve this issue," said Satardekar.
Comment