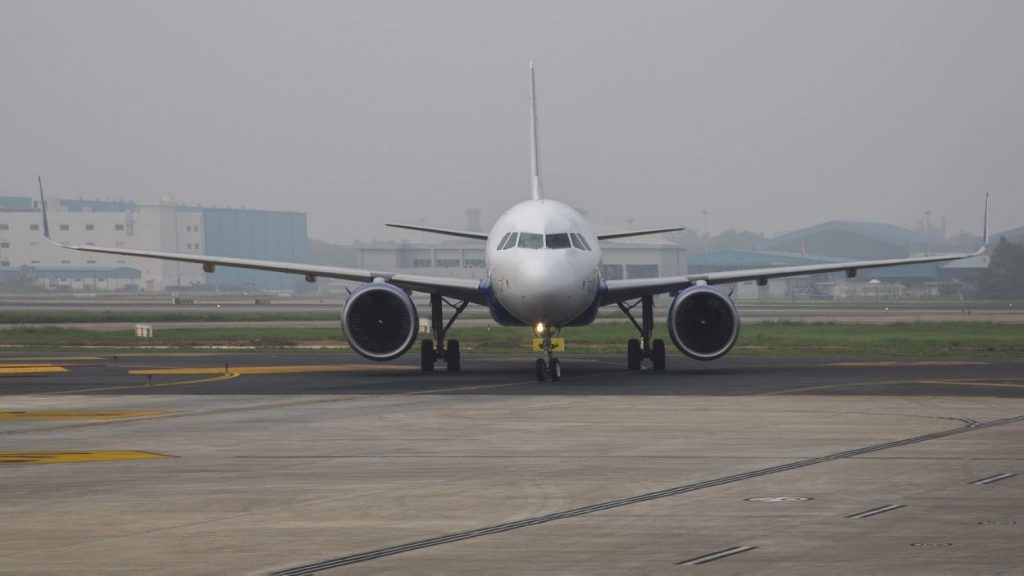 ANJULI BHARGAVA/ Fortune India
Small is beautiful and at times pretty controversial. The soon-to-take-off new Mopa international airport in India's smallest state Goa is second to none in this respect.
Conceptualised and conceived way back in the 1990s, the facility has been in the making almost as long as its bigger brother in Navi Mumbai. There have been many moments through its tumultuous history when it looked like the airport, being developed by GMR Goa International Airport Limited (GGIAL), would just be shelved. Opposed from the word go, locals and Goans every few years resigned themselves to their fate: the ill-equipped and rather crummy Dabolim airport, currently undergoing an expansion.
Yet close to two decades later, the privately managed and constructed, spanking new airport is all set to change the very axis of this tiny state when the first flight takes off in December 2022 (proposed launch as of now), although many detractors remain unconvinced that the state needs a second airport at all.
Potholes, Twists And Turns
For those such as Goa's director of civil aviation Suresh Shanbhogue and others like him associated with the project since 2014-15, the eventual opening of the Mopa airport will be a dream come true. Shanbhogue, who is on GMR's board as a nominee director, was the first official to be handed charge in the newly set up directorate of civil aviation, created in 2014 by the then chief minister Manohar Parrikar.

Much like the topography of Goa, the journey of Mopa airport has been full of many potholes, twists and turns (see chart). For a long time, many in the state were of the view that a second airport was unnecessary: the existing airport was both better located and could easily be expanded to handle the anticipated increased volume of traffic. Loud protests against Mopa airport were led by activists and NGOs. A powerful lobby led by late hotelier Lalit Suri also put its heft behind scuppering the project, especially since at the time it proposed the closure of Dabolim which would spell disaster by dramatically increasing the distance from the new airport to all South Goa resorts and tourism spots.
But vested or other tree-hugging interests apart, a new facility was decided upon by the Indian Cabinet, and the then state authorities led by Parrikar proceeded on the project all guns blazing. GMR won the bid on a 36.99% revenue share basis and the concession agreement was signed in 2016. Delays led to a cost overrun of around ₹715 crore as the initial cost estimate of ₹1,900 crore was revised to ₹2,615 crore. Set over 2133 acres with 232 acres for commercial development, the new facility will cater to a total of 4.4 million passengers per annum (mmpa) in the first phase and 13.1 million by the fourth phase with a traffic trigger of 80% (when traffic touches 80% of present capacity, the next phase of construction will begin) although according to officials the total handling capacity can be stretched to 35 million. The runway of 3,500 meters has a parallel taxiway which can act as a runway if required. There is a provision for a second runway. Apron space and parking bays will be ample, say sources associated with the project.
The Billion Dollar Argument
Detractors of the Mopa airport — very much alive and kicking even today — have argued that allocating 2,100 acres of land in a state where land for development is scarce to begin with is a complete waste. Further, spending ₹2,000-odd crore on an asset that is not strictly necessary makes little sense. They cite the fact that with new small airports in the vicinity like Belgaum, Hubli and Sindhudurg, Mopa is one too many. The existing Navy-owned airport at Dabolim handled around 8-9 mmpa pre-pandemic, but many claim that it could handle upto 15 mmpa, if the authorities put their mind to it and sweat the asset.
Moreover, they point out that Mopa is only viable due to the land offered for commercial development; just on the basis of the passenger traffic alone, no private player would step forward, an assertion nobody disputes.
But government officials — both in Goa and at the center — point out that this is a big if. The 2013 upgrade carried out by Airport Authority of India (AAI) earned more brickbats than bouquets as the new terminal was far below the standards set by the private players. To cite one instance, a multi level car parking to accommodate upto 570 cars is yet to be put to use, so badly designed is the space!
But more importantly, Dabolim in its present state is not really equipped to handle wide-body aircraft; it only has two wide-body parking bays, for instance. This restricts the number of scheduled foreign airlines who fly directly to Goa. Many charters that come in from overseas use narrow bodied planes as of now. Most international passengers incoming and outgoing transit through Delhi, Bengaluru or Mumbai. "Restrictions at Dabolim have so far not allowed Goa to explore or exploit its full potential", says a senior Ministry of Civil Aviation (MoCA) official.
But officials argue that domestic operations too remain constrained due to no fly hours in the morning and one hour in the afternoon. Goa also has very few direct route connections within India. "We expect the number of direct routes to go up substantially", adds Shanbogue. He points to a 2014 CAPA report that argues that with a growth rate of even 10%, both Mopa and Dabolim would saturate in a little over 15 years and that the state would need to find a site for a third airport. Over-optimistic or realistic, time will tell. The CAPA report also argues that inbound tourism to the state has "underperformed" due to Goa's limited international network.
Moreover, those batting for Mopa point out that detractors who argued that traffic in Goa would only reach 9-10 million by 2035 were talking through their hats. Traffic growth has been 16-20% and pre-pandemic (2020) traffic at Dabolim was already at 8-9 million. Once both facilities are up and running, the market demand will dictate who handles how much traffic but at least the constraints faced at Dabolim will be lifted for the state as a whole.
Hurray, says North Goa
What Mopa will end up doing over a period of time is changing the axis of the state. To link the new airport to the main highway, Ashoka Buildcon has started construction of a six-and-a-half kilometer six-lane road that will give far quicker access to the main arterial highway and is expected to be ready in two years. Although such claims only lead to raised eyebrows. Locals are highly skeptical of timelines in a state known for its lethargic execution. They cite the fact that the highway linking Dabolim to the capital Panjim is yet to be fully operational while street lighting on the stretch is woefully inadequate despite this being the state's only airport.
Nonetheless, the final commissioning and launch of the new facility will end up pushing up land prices in and around North Goa — which have been on fire for the last year in particular — as the new airport improves access in this part of the state. Many developers are now focussing on villa and gated complexes on a grand scale within half an hour of the new facility, some spilling over into Maharashtra. To cite one instance, at Riverdale, an approximately 100-acre development is coming up 12 kilometers from Mopa and being hawked primarily for its proximity to the new facility. Land prices within the complex that sold for as low as ₹1,000 per square yard are now quoting at ₹10,000 or so. Many similar albeit smaller developments dot the landscape today, several of whom hope to make a quick buck through the real estate boom that inevitably accompanies airport sites in the country.
It is in fact safe to say that the entire Pernem taluka, where Mopa is located, and its residents are feeling the ripples of this new alien in their midst, one that is creating both excitement and trepidation in equal measure. Whether the project is justified at this stage or not will also become evident sooner rather than later. It is baptism by fire for India's tiniest state.
Comment