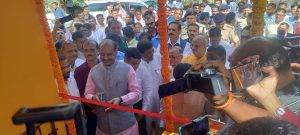 Goemkarponn desk
CANACONA: The 20 beneficiaries who were handed –over Shram-Dham House Keys are Harishchandra Ram Naik (Ardhofond, Poinguinim), Nagi Toko Varak(Dabel-Poinguinim), Kamlakar Gaonkar(Baddem-Cotigao), Arti Gadkar (Mastimoll-Gaondongrim), Nirmala Raju Pagui(Karashirmoll-Agonda), Sujata Tulshidas Pagui(Dhawalkhazan-Agonda), Vinanti Vithoba Velip(Mudcheli-Agonda), Kushawati Kusta Bhagat(Kumbegal –Poinguinim), Pomu Mirashi (Ziltawadi, Gaondongrim), Erobal Fernandes (Palolem), Mathew Rebello (Karashir-moll, Agonda), Batu Gaonkar(Badsarem-Gaondongrim) Salu Gaonkar (Gulem-Canacona), Savi Navu Zoro (Pedem-Loliem), Yeshwant Raghoba Dessai (Kindlem-Canacona), Premanand Ram Gaonkar (Chapoli-Shristhal), Dayanand Shanta Pagi(Kindlebag-Canacona), Tanuja Kishor Dhuri (Kindle-Bhag-Canacona), Priti Pagi (Kindlebag-Canacona), Anandu Ram Pagi (Palolem).
Architect Engr Vinay Tukbi Awho, has designed these houses, was honoured by LS Speaker Om Birla.
Agonda Sarpanch Prettal Fernandes and ex-Sarpanch Fatima Rodrigues were felicitated at the hands of Speaker Birla for Agonda village being the only panchayat from Goa for getting a national nomination for 'Green and Clean' awards amongst 100 other panchayat's from rest of the country.
All Goa Private Property Owners Association, who donated 12 lakhs to build 'Shram-Dham' houses, again donated another cheque for an unspecified amount. The cheque was handed over by association president Dharmesh Saglani and others to Speaker Ramesh Tawadkar in the presence of Chief Minister Dr Pramod Sawant and LS Speaker Om Birla.
Bhoma Village panchayat Sarpanch handed over a cheque of Rs.2 lakhs, while Dhaku Madkaikar handed over another cheque of Rs.1 lakh on the stage.
A booklet published of all 20 families with respect to their old dwelling unit and the type of new house built for them under the 'Shram-Dham' project was also released on occasion. An Audio Video on the Shram Dham Initiative was presented for the audience and guests.
Comment