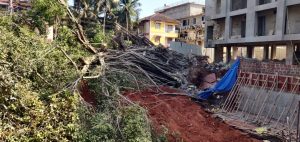 Goemkarponn desk
CALANGUTE:
On the very day when Goa and the World celebrated Environment Day, there was an incident wherein a builder "destroyed" the environment.
Eyewitnesses said that One Akhil Gupta forcibly uprooted a more than 200-year-old Banyan Tree on the boundary of his property by excavating mud and cutting the roots.
It is evident that mud was removed by engaging JCB and cutting the tree's roots shows the developer's clear intention to uproot the tree from the site as it disturbed the development activities.
It is also understood through reliable sources that two electricity poles at the side of the property were shifted two days before the tree felling.
This shows the builder has executed a well-thought plan to uproot the tree. Thus creating doubt in people's minds that the department looks to be part of the conspiracy helping the developer to execute his plan.
"We, therefore, demand proper investigation in the case matter and departmental enquiry against the concerned officers," said locals.
They said the Banyan Tree has been registered in Village Panchayat Biodiversity PBR and the authority is well aware of the fact.
"We condemn the act of the developer for destroying more than 200 years old Banyan Tree and request the authority to initiate strict action against the developer," he said.
Comment