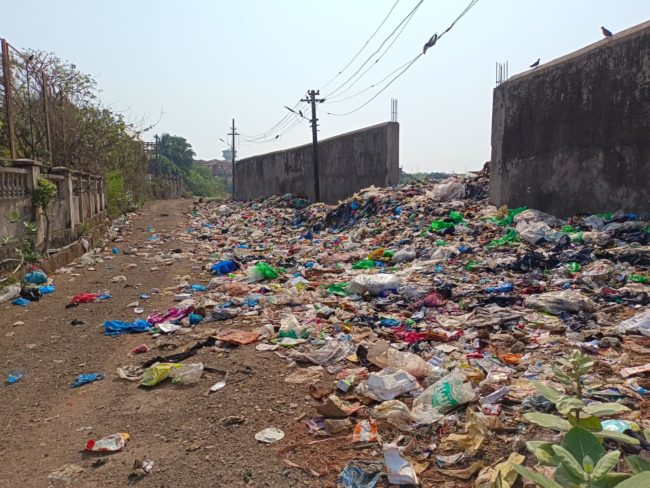 Goemkarponn desk
VASCO: Garbage issue and littering of waste at various points in Mormugao municipal areas by people have become a major problem in recent times. Although MMC undertakes door to door garbage collection in all 25 wards, this process needs to be done more professionally, and the waste treatment should be done efficiently.
Vinod Kinlekar (Pandey), councillor of MMC
door to door garbage collection is indeed happening in all wards. It is equally valid that the garbage collection points turn into a black spot when the loading and unloading of garbage waste are not happening professionally. The labourers tend to drop the collected waste near the collection points, which should be avoided actually.
"I have personally observed that elderly people and even well-known people are engaged to littering wet and dry waste in the open at the roadside, and CCTV cameras need to be installed at back spots where the people are prone to throw garbage. When MMC imposes heavy fines on such people, the littering of waste will be stopped," he said.
Kinlekar also agreed that the whole garbage problem is getting worse due to the non-functioning of the waste treatment plant, which leads to compiling of waste day by day. He mentioned that Vasco MLA Krishna Daji Salkar will discuss this matter with the Minister for waste management Babush Monseratte and will find a solution to the garbage issue soon.
Councillor Girish Borkar has come up with some commendable ideas to discourage people from littering waste in dark spots. Borkar said he has come up with an idea wherein a plant sapling will be given to certain families, and they will adopt that plant and will take care of it until it is full-grown. This will make the dark spots more beautiful and garbage-free.
Borkar also pointed out that the garbage collectors collect waste, and at the collection point, after unloading the waste, they keep those bins reverse, but sadly some people who miss giving their daily garbage tend to dump their waste at these spots in the wee hours which is a big problem.
"The waste treatment plant is also not functioning, and we also need a special crane, trucks etc. to clear the dumped waste. We discussed this issue with the Minister for waste management, and we hope that soon our demands will be fulfilled. Lastly, I feel the people should co-operate with the municipality for proper waste collection and management," he said.
Vice-chairperson of Mormugao municipal council Amey Chopdekar also feels that the Waste management needs to be dealt with seriousness. He said that in some areas, waste collection is not happening fully.
He cited an example of the Mangor area wherein some interior areas the waste bins don't reach, and therefore, these households tend to throw their waste at the Varunapuri junction or other open places, which is wrong.
Chopdekar said that proper awareness among these locals about garbage management needs to be given so that they do not get involved in such waste littering. Further, he also said that a proper Waste treatment facility such as Bio-mining needs to be implemented for proper segregation and treatment of wet and dry waste.
Comment