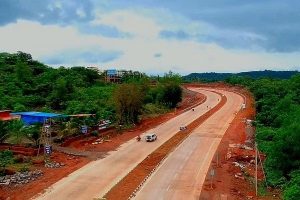 Goemkarponn desk
PANAJI: The National Highways Authority of India (NHAI) has disclosed plans to open a vital 42 km stretch of the Mumbai-Goa highway, which will significantly simplify the travel for hundreds of migrants returning to their Konkan hometowns to celebrate Ganeshotsav.
According to a senior NHAI official, work is currently being done to convert the one-way unpaved route from Panvel to Kasu in the Raigad district to cement.
The massive project which includes a 555km highway connecting Mumbai and Goa, has 460km of its route within Maharashtra, extending up to Patradevi in Sindhudurg district.
NHAI's relentless efforts focus on constructing an 84km segment of the highway spanning from Panvel to Indapur in Raigad district. This endeavor is strategically divided into two packages: Package 1 comprises the 42km stretch from Panvel to Kasu, while Package 2 encompasses the remaining 42km from Kasu to Indapur.
JM Mhatre Infra Pvt Ltd has been entrusted with the responsibility of Package 1, with a substantial investment of Rs 151 crore, while Kalyan Toll Infra received the work order for Package 2 in November 2022.
The NHAI official revealed that initially, the Supreme Tollways Pvt Ltd had been awarded the contract for the entire 84km stretch from Panvel to Indapur in 2011, with a completion deadline set for 2014. However, challenges such as land acquisition and utility shifting had significantly impeded progress. Although these issues were resolved in 2014, the company faced financial hurdles.
To support the project's continuation, NHAI provided a financial lifeline of Rs 550 crore to the contractor, who utilized Rs 500 crore to complete the construction of the 42km (2+2 lane) stretch from Panvel to Kasu under Package 1. However, only 20km of the road planned under Package 2 was finished. In 2021, NHAI terminated the services of the contractor due to delays in completing the highway.
Subsequently, the contractor pursued legal action, approaching the high court twice and the Supreme Court once to contest the termination. Despite these efforts, the courts consistently ruled in favor of NHAI, which ultimately appointed two new contractors in 2022.
Comment