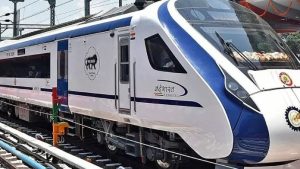 Goemkarponn desk
MARGAO: A new timetable has been introduced for the Mumbai-Goa Vande Bharat Express route. The Mumbai-Goa Vande Bharat Express, running between the Maharashtra capital and Goa, has seen an increase in the number of passengers. The new timetable promises to meet the surge in demand especially during the festive season.
The new schedule starting from November 1 will enable passengers to travel daily except Friday for the CSMT-Madgaon-CSMT Vande Bharat route.
Mumbai-Goa Vande Bharat Express NEW TIMETABLE:
In response to the increased popularity of the route, it will now run six days a week, with the exception of Fridays, according to the reports.
The majority of passengers using Vande Bharat Express fall within the age groups of 15-30 years and 31-45 years.
Currently, Vande Bharat Express runs three times a week on the Mumbai-Goa Central Railway line.
The Chhatrapati Shivaji Maharaj Terminus-Madgaon-Chhatrapati Shivaji Maharaj
Terminus Vande Bharat Express which currently operating three times a week, it will soon run for six days a week
The Fridays reserved for maintenance and repairs.
Mumbai-Goa Vande Bharat Express: Key Details
Vande Bharat Express follows two schedules, one for the non-monsoon period and another for the monsoon season.
In the non-monsoon schedule, the train departs from CSMT in Mumbai at 5:35 a.m. and arrives at Madgaon at 1:15 p.m.
It then departs Madgaon at 2:35 p.m. and reaches CSMT at 10.25 p.m.
The fares for Vande Bharat Express vary, with the C coaches ranging from Rs 1,100 to Rs 1,600
The executive class, which includes first-class coaches, will cost between Rs 2,000 and Rs 2,800, as per railway administration.
The train makes stops at Dadar, Thane, Panvel, Roha, Khed, Ratnagiri, Kankavli, and Thivim.
Comment