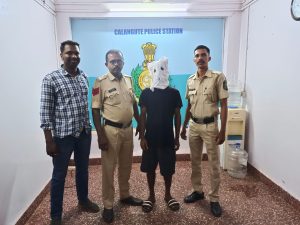 Goemkapronn desk
MAPUSA: Parra's Lobo Vaddo residents were in for a shock as a lifeless body was found in a locked house. The deceased has been identified as Muven Dias, a 52-year-old male.
Authorities from Mapusa Fire Department and Mapusa Police Department are on the scene, conducting a thorough investigation into this perplexing incident's circumstances.
The incident unfolded when the ward member visited Dias' residence, only to find the door locked from the inside. Alarmed by the unusual situation, the ward member immediately alerted the sarpanch, who promptly joined forces with the Mapusa police and fire officers.
Dias had been unwell for several days and had confined himself to his bed.
It was noticed that he had not been seen outside for the past five days, which raised concerns among the community.
These concerns turned into shock when his lifeless body was discovered within the confines of his locked home.
Investigating the circumstances surrounding \Dias' death and the possibility of foul play has not been ruled out.
The police are examining the scene for any signs of forced entry or suspicious activities. An autopsy will be conducted to determine the cause of death, shedding light on the mysterious circumstances that led to this unfortunate event.
Comment