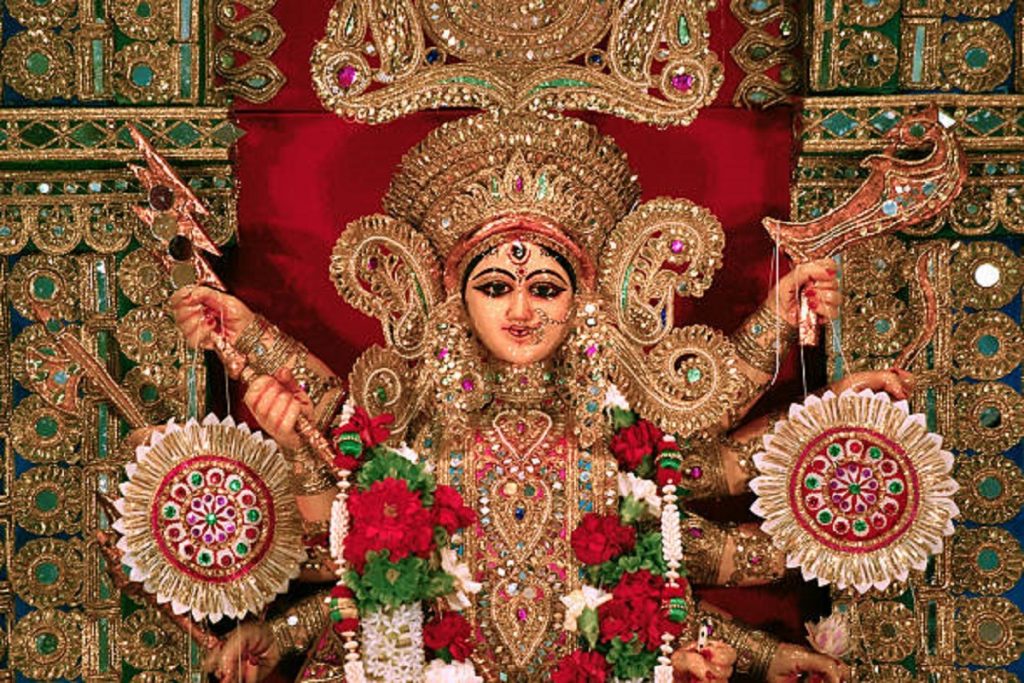 Goemkarponn desk
PANAJI: Navratri is one of the most ancient and significant Hindu festivals in the country in honour of the goddess Durga and her several avatars, celebrated from 1st of Ashvin month and ends on the 9th of the same month. This year, Navratri starts on October 17 and ends on October 25.
The goddess, a personification of Shakti, (power) is known by different names, Durga, Kali, Laxmi, Saraswati, Chandika, Bhavani, Ambika, Ashtabhuja (eighteen hands). She has weapons like Shul (pike), Chakra (wheel), Parshu (axe) and Talvar (sword) in her hands (four, eight, eighteen) and her main task is to punish the wicked and so, she is engaged in wars. She is depicted as sitting on a lion.
The word 'Navratri' is derived from two Sanskrit words, 'Nava' means nine and 'Ratri' means night, hence nine nights. Each day is associated with an incarnation of the goddess.
THE ORIGIN
There are different legends regarding the origin of Navratri festival. The most common legend is that of the prominent battle between the buffalo-headed demon king Mahishasura and the goddess Durga, hence it is a celebration of the victory of Good over Evil.
Mahishasura worshipped Shiva and this pleased the god, who granted him the boon that he would be invincible and undefeatable by any man. Soon, Mahishasura set out on a rampage killing innocent people on the earth and even driving out the Devas out of Swarglok.
The gods implored Lord Shiva for protection. The Trinity of Brahma, Vishnu and Shiva invested their powers in energy that took the form of Goddess Durga to conquer the demon Mahishasura. The devas also offered her their distinct weapons such as the conch, discuss, lotus, sword, bow with arrows, trishul, mace, thunderbolt, snake and flame.
Mahishasura who was attracted by Goddess Durga's beauty approached her for matrimony. The goddess agreed but set forth a challenge that he defeats her in a battle. The battle lasted nine nights and the demon kept on changing his form to confuse Goddess Durga.
Finally, when he turned into a buffalo, Goddess Durga killed him with her Trishul. From then on, the nine nights came to be known as Navratri, while the tenth day was called Vijayadashami, when goodness prevailed over evil.
CELEBRATIONS IN GOA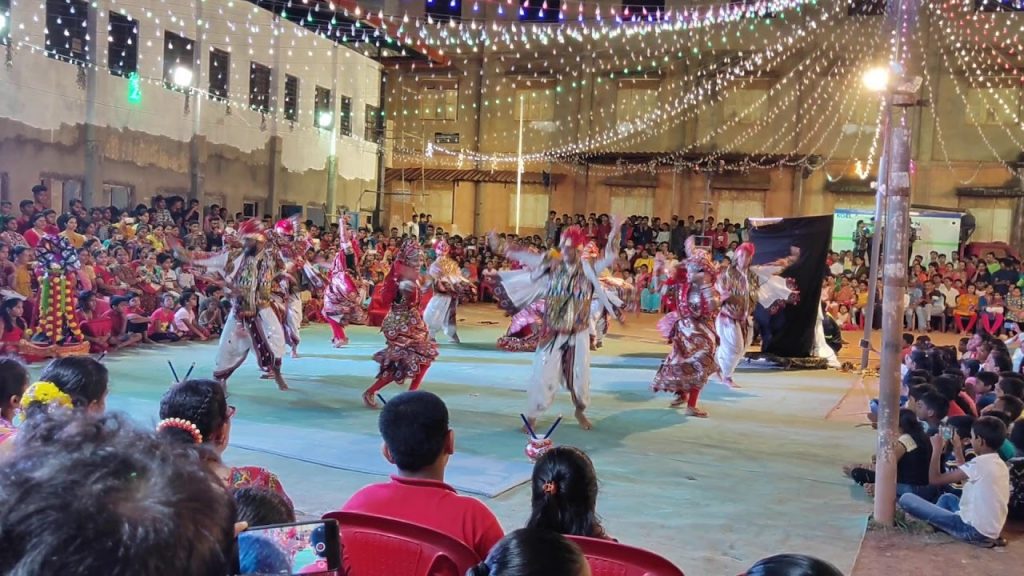 On the first morning of Navratri in Goan temples, a copper pitcher is installed in the sanctum sanctorum (holy of holies) of the temple, with a pan of copper containing nine different varieties of grains sprinkled inside the clay.
On the tenth day when these are sprouted on the altar, they are distributed among villagers. The nine nights are celebrated with devotional songs and religious discourses. Artists perform folk music.
The Gujarati community has taken over the celebrations by organising Garba and Dandiya Raas dances in large open places for nine consecutive nights, in which people of all ages participate, in addition to the traditions, rituals and festivities held in various local temples.
In some temples, like Navdurga of Borim, Mahamaya Kalika of Kasarpal, etc., the image of the goddess is placed in a specially-decorated colourful silver swing, known as Makhar in Konkani and for each of the nine nights, she is swung to the tune of temple music, called Ranavadya with devotees singing artis and waving lamps. This ritual is locally called Makharotsav.
THE RITUALS
Navratri is celebrated with great religious fervour across the country. Before the start of the celebrations, houses and temples are cleaned to welcome the Goddess. Then, the image of Goddess Durga is installed in homes and in temples. Devotees shower their prayers towards the Goddess in forms of bhajans and chant Navratri mantras. Fruits and flowers are offered as well in her honour.
Hindus visit temples to seek divine blessings for the prosperity of their families and business. They fast on all nine days (strictly vegetarian diet), which ends after making an offering of the Havan and the Prasad to the Goddess.
On each of the nine days, a different form of Goddess Durga is worshipped. On the first day, people worship goddess Shailputri, followed by goddess Brahmacharini (second day), goddess Chandraghanta (third day); goddess Kushmanda (fourth day), goddess Skandamata (fifth day), goddess Katyayani (sixth day), goddess Kaalratri (seventh day), goddess Mahagauri (eighth day) and goddess Siddhidatri (ninth day).
Kanya Puja is another important ritual on the eighth or ninth day of Navratri festival, where nine young girls representing nine forms of the Goddess are worshipped, with ritual foot-washing and given offerings such as food and clothing. As per Hindu philosophy, these girls are considered as the manifestation of the natural force of creation.
Navratri 2022: Nine Navratri
colours and their significance
Nine colors every day resemble Maa Durga's avatar; read on to learn more about the meaning and significance of the colors
Navratri is a festival celebrating different forms of Goddess Durga. While celebrating these nine forms, we also wear clothes that symbolise Maa Durga on these nine days. Every colour represents a different form of the Goddess's avatar.
Here are the colours and the meaning behind the colours of Navaratri:
Day 1: White
Navratri starts with colour white which symbolises peace. Maa Durga is dressed in white attire on this day.
Day 2 : Red
The second day is the colour red which signifies fearlessness. This day we worship Maa Durg, who rewards everyone with her bravery and courage.
Day 3 : Royal blue
People wear Royal Blue to enjoy the festivities and grace on this day. The bright shade of blue symbolises richness and serenity.
Day 4: Yellow
Colour yellow signifies joy and enthusiasm. This bright colour keeps a person enthusiastic all day long.
Day 5: Green
Green colour represents nature and evokes feelings of growth, fertility, peace, and serenity. It also represents new beginnings in life.
Day 6: Grey
Colour grey represents balanced emotions and keeps the person down-to-earth.
Day 7: Orange
Orange colour represents warmth with positive energy.
Day 8: Peacock green
This colour signifies uniqueness and individuality.
Day 9: Pink
Pink symbolises kindness, affection, and harmony. It is a shade of unconditional love and nurturing.
Comment