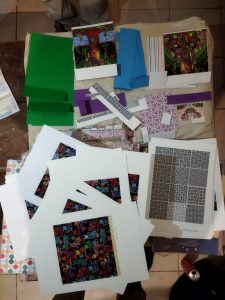 Goemkarponn Desk
PANAJI: NCB-Goa has busted LSD manufacturing clandestine lab and has arrested manufacturer with multiple drugs from Goa.
During the search procedure of the property misused for setting the illicit LSD manufacturing unit, multiple drugs has been seized.
Various types of material used for manufacturing drugs, few basic, crude as well as few sophisticated lab equipments, base material for drugs and multiple currency sourced from sale proceeds have also been seized from the spot.
In follow up of information which led to recent seizures of multiple party drugs on 28/04/2023 in Goa, further intelligence was developed which strongly indicated the presence of a wholesale manufacturer in the region.
Accordingly, various intelligence sources were approached to gain additional information about the suspected manufacturer. Soon, after rigorous analysis, identity of a person named A.Kundu was noticed in Anjuna area of Goa. During this period, information was gathered wherein various localized networks were approaching a big time manufacturer through various platforms for supply of drugs, primarily LSD.
The analysis of this information from multiple channels inferred the connectivity of illicit drugs with A.Kundu after which a close surveillance was mounted upon him.
Soon, credible information was received which conclusively derived the input that A.Kundu was in process of manufacturing drugs for the supply order. By the time, surveillance workout by field unit led to identification of the premise used as clandestine lab, officials of NCB-Goa chalked out a tactical plan to apprehend the person at his manufacturing unit.
Shortly later, confirmation was received which asserted presence of
illicit drug. To this information, NCB officials, carefully entered the premises and intercepted a A.Kundu. During initial search, multiple illicit drugs were recovered as 2,464 LSD Blots (61.97 grams), 10.47 gms MDMA powder, 76.6 gms Hashish Moist Powder, 60.5 grams Hydroponic Weed (Ganja), 3.42 gms Hashish, 25 Psilocybin Mushroom Capsules (05 grams) were seized.
However during careful search of inner spaces, various types of lab equipments,
huge stock of raw paper which are used for preparing LSD blots, paper cutting machines, droppers and several undipped square cut paper sheets were found.
When question,A.Kundu confessed that he was involved in illicit manufacturing of drugs. He also mentioned that due to huge consumption of LSD in Goa, he carefully noted know how of drug manufacturing and then gradually assembled the total setup.
He mentioned that he was in this illicit drug manufacturing business for last few years. He also stated that he was in contact with various other syndicates across various cities for supply of the drugs, some of whom are of foreign nationality.
It would be worthy to mention that the drug lab bust is one of the few instances in recent past in Goa and the arrest of the main manufacturer will have a detrimental effect of drug trafficking.
Further investigation is underway to identify other receiver syndicate
members, suppliers of raw material, indepth investigation has also been initiated.
Comment