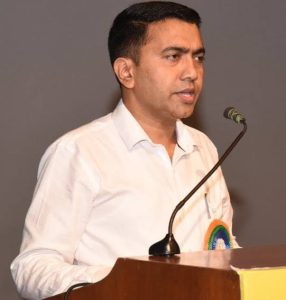 Goemkarponn Desk
PANAJI: Chief Minister Pramod Sawant said that he has never heard any complaint about UCC even when there are more that 27 percent minorities in Goa.
"There are more than 27 per cent minorities in Goa, I don't think I have heard any complaint about Uniform Civil Code in the last 60 years which came up to the state Government or was sent to High Court or Supreme Court," said Sawant
When a state like Goa, which has a lot of minorities without any issues with UCC then why would it be an obstacle for any other community or religion to have an issue with it? All religions and castes preach equality and gender equality and hence one should support the UCC.
Speaking further, Sawant said that Opposition parties don't want gender equality or woman empowerment.
"We talk about 'Aazadi ka Amritkaal in 2047' when India will complete 100 years of Independence we talk about UCC in New India where there are equal rights for men and women. I can't understand why opposition is opposing UCC," he added
Opposition has always something to protest about, they never supported anything which was done in the national interest.
"So I would just say that whether it is Congress or Samajwadi Party, they don't seek gender equality and women empowerment. If the Opposition wants both these things implemented in the nation, they should support UCC,"
Comment