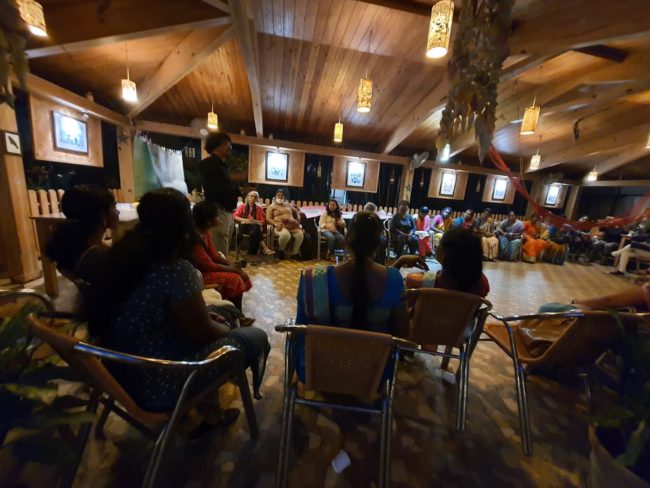 Goemkarponn desk
VASCO: The National Fishworkers' Forum (NFF) concluded the two-day women's workshop held in Goa, Benaulim. This workshop was held to empower and make women aware of multiple anti-firmish projects and livelihood related issues.
In a press release issued by NFF, Olencio Simoes, General Secretary of NFF, stated that the objective of this workshop was to empower women to take up issues pertaining to their livelihoods and to create awareness on various anti-environment and anti-fisheries projects proposed by the central government of India like The Sagarmala programme which has planned to privatize entire sea and rivers and its coastal areas of 7,500 km coastline and 14,500 km of rivers of India.
Olencio Simoes further lambasted The Ministry of Environment, Forest and Climate Change for playing with the lives and sentiments of the people of Goa. He stated that the National Coastal Zone Management Authority (NCZMA) is acting on the dictates of the crony capitalist rather than the state government.
Simoes said that the Environment Minister Bhupender Yadav should immediately intervene to save the State of Goa, as the CRZ notification had given special consideration to looking at the peculiar circumstances of the State of Goa, including ensuring livelihood security to the fisher communities and other local communities.
He further emphasized the importance of conserving and protecting coastal stretches, their unique environment, their marine area and promoting development through a sustainable manner based on scientific principles.
Unfortunately, NCZMA rejects the request of the GCZMA who had prepared the draft CZMP and had demanded to delete Ports limits and to add 46.06 lakhs square meters Of sand dunes," Simoes claimed
Agnelo Rodrigues, President of Goenchea Raponkarancho Ekvott, stated that first, the State sold our six rivers, and now they are selling the entire 105km of coastline.
GRE warns the state government and demands that the CM Promad Sawant should put a strong case to push forward the GCZMA request and demand that the National Coastal Zone Management Authority (NCZMA) should delete Ports limits and add 46.06 lakhs square meters Of sand dunes failing which he fishing community of Goa will be forced to come on streets.
Comment