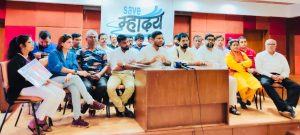 Goemkarponn Desk
PANAJI: NGO's and Opposition Parties from Goa come together under the banner of Save Mhadei Save Goa.
A joint call given for Chalo Sankhali on 16th Jan 2023 at 4pm for 2nd Opinion Poll to Save Mhadei.
The Front has also appealed the Chief Minister Pramod Sawant to tender resignation as part of protest if our demand to protect Mhadei is not fulfilled by the Centre by January 16, the day which is celebrated as Opinion Poll Day.
Adv Hrudaynath Shirodkar said that people of Goa to be united, keeping aside their political affiliation to protect and save Mhadei River.
He extended full support to the State government, if they intend to fight against Centre to save Mhadei and ensure injustice is not done to Goa.
"But if State fails to convince Centre to withdraw the permission by January 16, we would be forced to call for another Opinion Poll to save Mhadei," he said.
Shirodkar said that Front will launch an intensive State-wide protest against Centre and Karnataka.
Activist Anil Kerkar targeted the BJP leaders, including North Goa MP Shripad Naik and CM Pramod Sawant, for being responsible for the Mhadei fiasco and now crying crocodile tears over the issue.
"If these leaders were so concerned about Mhadei they would have resigned the very moment that the news came in of Centre allowing diversion of Mhadei water," Kerkar opined.
activists pointed out that Mhadei is a lifeline of Goa and diverting its waters would have a disastrous effect on the wildlife, ecosystem and most importantly the 50% population of the State which is dependent on Mhadei for drinking water.
They said that Goans should keep aside their political affiliations and join hands on a common platform to stage a statewide agitation against the Centre's move to allow diversion of Mhadei waters to Karnataka.
Comment