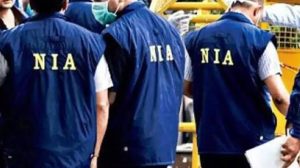 Goemkarponn Desk
PANAJI: National Investigation Agency (NIA) issued a release today specifying that the Thursday raid at Goa and eight other locations in a multi-state crackdown was in connection with the ISIS Jharkhand module.
After raiding 8 locations, one person has been arrested from Ratlam in Madhya Pradesh for his alleged role in the conspiracy to spread terror in the region.
In addition to the raid at Usgao-Ponda, raids were also conducted in the Siwan district in Bihar, Jaunpur, Azamgarh and Maharajganj districts of Uttar Pradesh, Ratlam in Madhya Pradesh, Ludhiana in Punjab, Yadgir in Karnataka and Mumbai in Maharashtra stated the release. Investigations in the case are continuing.
The searches were carried out in Ratlam, Siwan (Bihar); Jaunpur, Azamgarh and Maharajganj in Uttar Pradesh; Ludhiana in Punjab, South Goa; Yadgir in Karnataka; and Mumbai in Maharashtra.
According to the NIA, Mr. Bahadur was involved in dissemination of ISIS propaganda through social media platforms for radicalisation and recruitment of gullible youth for carrying out various terror related activities.
The agency had registered the case on July 19 and the next day, arrested Faizan Ansari for allegedly being part of the Jharkhand terror module conspiracy along with his associates and unknown others. It was aimed at unleashing violent terror attacks in India on behalf of the ISIS and recruiting youngsters to work for the banned outfit, said the NIA.
As alleged, Ansari had also propagated ideological videos of ISIS. "He was in the process of radicalising neo-converts and bringing them into the terrorist fold to expand the ISIS cadre and footprint in India.
Further, he was in contact with foreign-based ISIS handlers, who were guiding him in spreading the ISIS ideology. He had also contemplated doing Hijrat (migration) to a foreign ISIS conflict theatre after completing his task in India," the NIA said.
Comment